Northeast Kingdom VT Antique Centers
Northern Vermont Antique Stores & Dealers

In Vermont's Northeast Kingdom Antique hunting is more than a past-time for some it is an obsession. Discover something old, unique and collectible by visiting a Northeast Kingdom Vermont Antique Store or Antique Mall. The Kingdom has several wonderful antique shops in Danville, Lyndonville and other NEK Towns. Ask us about northern Vermont antique stores or share comments. To feature your Vermont antique store, shop or mall,  contact us.
Northeast Kingdom VT Antique Shops


Vermont Antique Mall, 5573 Woodstock Road, Quechee, VT 05059 | 802 281-4147
Located in the heart of Quechee Gorge Village, you'll find our 17,000 square foot barn filled with antiques, vintage and collectable treasures. Come see the area's largest selection, with hundreds of dealer booths and new stock daily. Nearby eateries and seasonal events make this a "must see" for all ages. Shop where the dealers shop! Open daily 10am – 5pm.
Visit Vermont Antique Mall Website
---

Design Toscano Lucina, Goddess of Light Stained Glass Lamp
---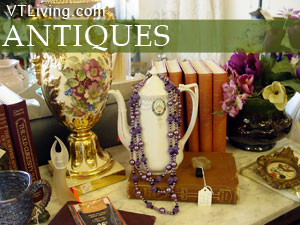 Twin Oak Antiques
108 S. Lunenburg Road
Lunenburg, VT 05906
Ph: 802-892-5267
Cabin, camp, folk art, signs, primitives, Adirondack, country, and just plain funky stuff. Across the street from my mom's 50 year old shop. Open daily May 15 – November 1.
Route 5 Antiques & Collectibles
277 Main St
Lyndonville, VT 05851
Ph: 802-626-5430
As always it is best to telephone in advance of your visit.
inns | hotels | resorts | rentals | attractions | dining | real estate
SHOP ANTIQUES

| Photo | Title | Price | Buy |
| --- | --- | --- | --- |
| | Kovels' Antiques and Collectibles Price Guide 2022 | $26.99 | On Sale Now |
| | Coin Collection - Collectible Coins for Collectors - Treasure Chest with 1Lb. of Rare Coins - World Currency Set - Decorative Wooden Box - Old Foreign Currency (COA Included) | $42.50 | On Sale Now |
| | 1920 Marine Telescope Collectible Décor Nautical Spyglass Antique Mounted Solid Brass 15 Inch Pirate Telescope with Wooden and Branded corrugate Box. | $54.99 | On Sale Now |
| | Kovels' Antiques and Collectibles Price Guide 2021 (Kovels' Antiques & Collectibles Price Guide) | $17.98 | On Sale Now |
| | Miller's Collectibles Handbook & Price Guide 2021-2022: The indispensable guide to what it's really worth (Miller's Collectibles Price Guide) | $24.49 | On Sale Now |
| | ETROVES Gifts for Women - Wooden Box Blue with Decorative Cone Painting Oriental Antique Look Jewelry/Keepsake/Trinket Storage Collectible Box | | On Sale Now |
| | Vintage Antique Spy Glass 1857 R & J Beck Brass Binocular with Leather Case | $39.00 | On Sale Now |
| | AliveRose Glass Display Dome,13" x 6" Cloche with Black Wood Base for Gold Rose Display, Antique Collectibles,Figurine,Decorative Showcase Display | $49.98 | On Sale Now |
| | Maine Antique Digest | | On Sale Now |
| | Miller's Antiques Handbook & Price Guide 2022-2023 | $34.99 | On Sale Now |
| | Antique Medieval Knight Great Helmet with Teutonic Crest Wing Helmet New Medieval Armor-Helmets Medieval Knight Steel Helmet Face Mask Medieval Re-Enactment By COLLECTIBLE GIFT ITEMS | $90.99 | On Sale Now |
| | Marketing Holders Rectangular Locking Box 12"W x 8"D x 3.75"H Inside Security Case with Lock and 2 Keys Watches Hardware Sports Memorabilia Baseball Cards Artifacts Matchbox Cars Collectible Storage Countertop Tray Jewelry Tabletop Display Keep Contents Safe | $42.99 | On Sale Now |
| | Mauzy's Depression Glass: A Photographic Reference and Price Guide | $34.99 | On Sale Now |
| | Design Toscano Amesbury Manor Glass Wall Mounted Storage Curio Cabinet, Mahogany | $185.51 | On Sale Now |
| | Pictorial Guide to Vaseline Glass (Schiffer Book for Collectors) | $29.95 | On Sale Now |
| | HOMISSUE 5-Tier Bookshelf,Vintage Industrial Book Shelf, Rustic Wood and Metal Bookcase and Bookshelves, Display Rack and Storage Shelf for Living Room Bedroom and Kitchen, Retro Brown | $189.99 | On Sale Now |
| | Warman's Carnival Glass: Identification and Price Guide | $14.18 | On Sale Now |
| | Blenko Glass: 1962-1971 Catalogs (A Schiffer Book for Collectors) | $29.95 | On Sale Now |
Champlain Valley VT Antiques
Burlington, Middlebury, St. Albans, the Islands of NW Vermont
North Central VT Antiques
Montpelier, Barre, Randolph, Waterbury, Stowe, Mad River Valley
Northeast Kingdom VT Antiques
St. Johnsbury, Newport, Barton, Lyndonville, Burke, Jay, Island Pond
South Central VT Antiques
Rutland, White River Jct., Woodstock, Quechee, Brandon, Killington, Ludlow, Weston, Chester
Southern VT Antiques
Bennington, Brattleboro, Manchester, Arlington, Newfane, Mt. Snow area
Vermont Activities | Vermont Attractions | Vermont Fairs | Vermont Events

Vermont Products | Visit VT Towns | FWM 24/7 Shopping

Country Weddings | New England Recipes
VT Inns | Red Sox Gifts | Travel Destinations
Free World Mall

Country Weddings | New England Recipes
VT Inns | Red Sox Gifts | Travel Destinations