Vermont Apartment Hunting
Finding a VT Apartment

Apartment Hunting can be a challenge here in Vermont. Finding a suitable apartment in Burlington, Rutland, Brattleboro, Manchester, Middlebury or just about any other Vermont town is not an easy task. Affordable housing is a national problem and Vermont is no exception. You can expect to pay from several hundred dollars to several thousand dollars a month for rental housing in Vermont. Ask us about VT Apartment Rentals or share reviews. To feature your business, contact us.
Vermont Apartments & Rental Housing


RE/MAX Four Seasons Real Estate, 2897 Depot Street, Manchester Center, VT 05255 | 802-362-4067
REMAX Four Seasons Real Estate is a full service real estate firm, assisting buyers and sellers of homes, condominiums, commercial properties, and land. We serve the southern Vermont real estate market, specializing in Manchester, Dorset, Arlington, Winhall, and the Bromley and Stratton ski areas.
Visit RE/MAX Four Seasons Real Estate Website
---


Century 21 Farm and Forest Realty, 5043 US Route. 5, Derby Road, Derby, VT 05829 | 802-334-1200
Since 1993 Century 21 Farm & Forest Realty has assembled a diversified team of experts familiar with a broad range of Vermont real estate; residential, commercial, timber tracts, vacation property or building lots. Office is conveniently located off Interstate 91 and open six days a week, Sundays by appointment. Member MLS, Century 21 Real Estate network. View listings online.
Visit Century 21 Farm & Forest Website
---


Lone Pine Campsites, 52 Sunset View Road, Colchester, VT | 802-878-5447
Known across New England and beyond as "Vermont's Favorite Family Campground", Lone Pine Campsites offers the quintessential Vermont camping experience in one of the most beautiful regions of the state, the Lake Champlain Valley. Located a mere stone's throw from Mallets Bay and 15 minutes from downtown Burlington, our 265 spacious campsites are surrounded by native trees and wildlife. We provide several RV hook-up options, offer RV rentals, and are happy to welcome tent campers.
Visit Lone Pine Campsites - Colchester
---


May Brook Falls Cottages, Northeast Kingdom, Vermont
Relax, unwind, and enjoy a slower pace at these renovated, vintage cottages nestled along May Brook in Barton, Vermont. Situated on over an acre of land, there is plenty of room for campfires, lawn games, and just enjoying nature. At the back of the property is May Brook Falls, a beautiful waterfall that sets the soundtrack for your stay. Across the street from Pageant Park Beach on Crystal Lake and close to many hiking and biking trails, this is the perfect base for exploring Vermont's Northeast Kingdom.
Book Online - May Brook Falls Cottages
---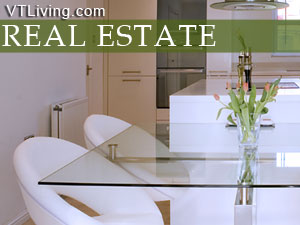 The Rental Housing market includes; apartment rentals, cottage and cabin rentals, home rentals, and condominium rentals. The price for a modest one bedroom apartment will vary from $350 – $ 650 per month depending upon location. Since apartment and house rentals rates are based in part by supply and demand, the more populated Vermont cities will have generally higher prices for apartments and housing rentals. House rentals are often $1,200 per month and higher.
Finding a Vermont Apartment
To quickly find an apartment for rent in Vermont check several sources and be ready to act quickly. Good apartments are in demand, and the competition is intense. Have your references typed and ready to mail, your down payment in hand (or in bank), and your schedule cleared to view and secure your place in Vermont.
To locate a Vermont apartment or house rental, check the Apartments for Rent section in Classified Ad Net.
Consider posting an "apartment wanted" classified, they can help you locate an apartment before a landlord places advertising.
Ask around. Often apartment and house rentals are found by "being in the right place, at the right time" – so let people know you are looking. Check with local Realtors, Rental Agencies, and Real Estate Agents. The real estate people know the local housing market. Some real estate agencies also handle local housing rentals.
Champlain Valley VT Realtors & Real Estate
Burlington, Middlebury, St. Albans, the Islands of NW Vermont
North Central VT Realtors & Real Estate
Montpelier, Barre, Randolph, Waterbury, Stowe, Mad River Valley
Northeast Kingdom VT Realtors & Real Estate
St. Johnsbury, Newport, Barton, Lyndonville, Burke, Jay, Island Pond
South Central VT Realtors & Real Estate
Rutland, White River Jct., Woodstock, Quechee, Brandon, Killington, Ludlow, Weston, Chester
Southern VT Realtors & Real Estate
Bennington, Brattleboro, Manchester, Arlington, Newfane, Mt. Snow area
Vermont Real Estate Glossary | Vermont Real Estate Advice

Vermont Products | Visit VT Towns | FWM 24/7 Shopping

Country Weddings | New England Recipes
VT Inns | Red Sox Gifts | Travel Destinations
Fitness and Sports Products On Sale Now
Free World Mall

Country Weddings | New England Recipes
VT Inns | Red Sox Gifts | Travel Destinations