VT Architects
VT Architects Planners & Building Designers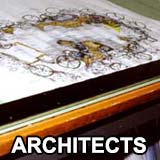 Architecture and Design can make a big difference in your life and make living in Vermont easier and more affordable.  Residential design and interior design features are now incorporating the latest in fuel saving technologies. The right designer can make finding the perfect home or office building easier by having it designed, or retrofitted to your specific building requirements. Fortunately Vermont offers superb Architectural firms, Design Architects and Building Planners. Ask us about VT Architects or share your Vermont comments or questions.
VT Architects & Building Designers
Vermont is one of the most beautiful places to live. If you decide to build a home, hiring an architect is a smart first step. An architect can advise you on what to look for when selecting land, guide you through building code and zoning, and design a home that fits your lifestyle.
To hire the right architect, view their website and call them up to learn more their design approach and style. New design and building is often more ecologically and environmentally friendly and can utilize the latest in energy saving and time saving technology.
Champlain Valley VT Realtors & Real Estate
Burlington, Middlebury, St. Albans, the Islands of NW Vermont
North Central VT Realtors & Real Estate
Montpelier, Barre, Randolph, Waterbury, Stowe, Mad River Valley
Northeast Kingdom VT Realtors & Real Estate
St. Johnsbury, Newport, Barton, Lyndonville, Burke, Jay, Island Pond
South Central VT Realtors & Real Estate
Rutland, White River Jct., Woodstock, Quechee, Brandon, Killington, Ludlow, Weston, Chester
Southern VT Realtors & Real Estate
Bennington, Brattleboro, Manchester, Arlington, Newfane, Mt. Snow area
Vermont Real Estate Glossary | Vermont Real Estate Advice

Vermont Products | Visit VT Towns | FWM 24/7 Shopping

Country Weddings | New England Recipes
VT Inns | Red Sox Gifts | Travel Destinations
Free World Mall

Country Weddings | New England Recipes
VT Inns | Red Sox Gifts | Travel Destinations