Paramount Theatre Rutland
Paramount Playhouse Theater Tickets Rutland VT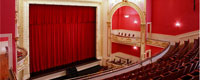 30 Center Street, Rutland, VT 05701 • Ph: 802-775-0903
The Paramount Theater Rutland was one of America's finest theaters in the early part of the 20th Century. The Paramount hosted performances by such greats as Tom Thumb, Will Rogers, Sara Bernhardt, Ethel Barrymore, The Great Houdini and many others. Today, the Paramount (or Playhouse) has been completely restored and renovated, and presents outstanding live theater, music and other performances. See current schedule and tickets below.
Paramount Theater was built in 1912 & 1913 by George T. Chaffee and opened on January 16, 1914. The classical style exterior architecture reflected the "City Beautiful" movement of the time, while the interior took on the look of a Victorian opera house. Paramount Theater provides seating for 1000 patrons in the orchestra, balcony, and 6 boxes flanking the proscenium arch.
Back in the day, performers traveling via the Rutland Railroad between Montreal and Boston, would stop to perform in The Playhouse. Minstrel shows, grand and light opera, and vaudeville delighted Vermonters and visitors alike. Visit the links below for Paramount Theatre concerts and tickets to current performances.
Category: Theater, Live Music Venue, Performance Hall
inns | hotels | resorts | rentals | dining | real estate

Vermont Products | Visit VT Towns | FWM 24/7 Shopping

Country Weddings | New England Recipes
VT Inns | Red Sox Gifts | Travel Destinations
Free World Mall

Country Weddings | New England Recipes
VT Inns | Red Sox Gifts | Travel Destinations