Rock of Ages Granite Quarry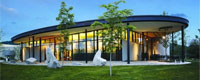 560 Graniteville Road, Graniteville, VT 05654 • Ph: 802-476-3119
George B. Milne, one of the three founders of Rock of Ages, opened his first granite manufacturing business in 1885. In 1905, he merged with quarry owners James Boutwell and Harvey Varnum, to form the Boutwell, Milne & Varnum Company. The company operated granite quarries in Graniteville, VT – near Barre – selling Medium Barre and Dark Barre granite. Each monument made of Barre granite from the BM&V quarries was guaranteed against checking, cracking andAmerica's First Granite Quarry discoloration.  To accommodate the growing tourism generated by the quarries, Rock of Ages built a 2,800-square-foot Visitors Center in 1962. By 1967, more than 100,000 visitors were coming to Barre each year to view the quarries and Craftsman Center at Rock of Ages. 2004 marked the 80th anniversary of the first "retiring room" for visitors and the beginning of a new era in visitor services at Rock of Ages. On May 1st, 2004, Rock of Ages opened a new 5,000-square-foot building to house the new Visitors Center and Memorial Design Studio. The Visitors Center houses a theatre, displays, computer-based exhibits and a gift shop.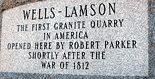 The Rock of Ages Visitors Center serves as an ambassador of good will for the company. Be sure to visit to this spectacular quarry to witness the work of skilled craftsmen transforming solid rock into beautiful and enduring works of art.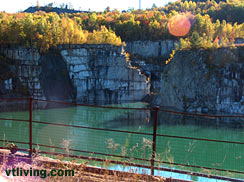 Please share your Rock of Ages Granite Quarry reviews and comments. To feature your business, contact us.
Category: Historical Site, Tours, Quarry
inns | hotels | resorts | rentals | attractions | dining | real estate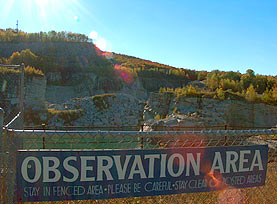 Vermont Products | Visit VT Towns | FWM 24/7 Shopping

Country Weddings | New England Recipes
VT Inns | Red Sox Gifts | Travel Destinations
Fitness and Sports Products On Sale Now
Free World Mall

Country Weddings | New England Recipes
VT Inns | Red Sox Gifts | Travel Destinations