Stowe Recreation (Bike) Path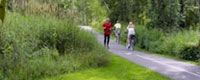 Between Route 108 & West Branch River, Stowe, VT 05672
The notion of a building a recreational path in Stowe was conceived in 1964 when the Stowe Better Business Association voted in favor of creating a "walking path" around the Village. The concept went no further until 1977, when a kind and generous resident, Claire Lintilhac, commissioned the Vermont Highway Department to design a bicycling route. Once completed, the construction plans sat idle until 1981 when the Long Range Planning Committee (a group formed under the Stowe Area Association) requested that a Bike Path Coordinator be hired to oversee the project. That decision brought about the hiring of Anne Lusk, who developed volunteer fundraising committees and began working on legalities with local property owners.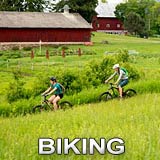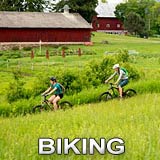 By 1984, $300,000 had been raised for construction and 2.7 miles of the path had been built on 27 donated easements. Three years later, the townspeople voted to approve funding for an extension of the path, which would culminate in the 786th National Recreational Trail. Upon its completion in 1989, $680,000 had been invested and the Stowe Recreation Path extended 5.3 miles in and around the historic Stowe Village.
Many progressive-minded landowners are to be applauded for their courage in bringing this vision to life. Today, this renowned recreation path project provides a community model that would benefit nearly any town. The Stowe Recreation Path has received recognition from politicians, Vermont citizens, and tourists, and has environmentally and economically strengthened the town and surrounding areas.
The Stowe community has earned many awards for establishing the Stowe Recreation Path, including the Land and Water Conservation Fund Award, Take Pride in America Finalist Award, Rudy Bruner Finalist Award, 1000 Points of Light awarded by President Bush, the 786th National Recreation Trail status, and others. The Stowe Recreation Path attracts national visitors who enjoy all historic Stowe Village has to offer.
The Stowe Recreational Path offers spectacular views of the Green Mountain scenery, a safe place to bike Vermont,  and pedestrian access to Stowe Village merchants.


Michael's on the Hill, 4182 Rt. 100 North, Waterbury-Stowe Road, Waterbury Center, VT
Enjoy the "ultimate Vermont dining experience" from within our Circa 1920 farmhouse. Allow us to provide you with locally driven European cuisine and the highest level of quality and service in a relaxed, welcoming atmosphere. The restaurant has been awarded with the Wine Spectator Award of Excellence, the Sante Magazine Sustainable Restaurant Award and is a Certified Green Restaurant. Vermont's First- Chef of the Year, Breathtaking Green Mountain Views, Private Event Facilities, Fireplace, AC.
Visit Michael's On The Hill Website
---


The Whip Restaurant at Green Mountain Inn, 18 Main Street, Stowe, VT 05672
Boasting Stowe's first liquor license, an impressive collection of antique buggy whips & a brass dumbwaiter. Enjoy hand-cut steaks, creative fresh seafood dishes, vegetarian dishes, homemade breads & more in a friendly, casual atmosphere. Sip a VT microbrew, fine wine or drink specialty by the fire. Serving Sun. Brunch, Lunch & Dinner daily. Kid's menu available. Located at the historic Green Mountain Inn, Main St., Stowe.
Visit The Green Mountain Inn Website
---


Piecasso Pizzeria & Lounge, 1899 Mountain Road, in Stowe, VT
Piecasso opened in Stowe on February 8, 2006. Piecasso is a fun place filled with modern style, eclectic music, and great vibes. Come visit, enjoy traditional New York style pizza, authentic Sicilian pastas, fresh seafood, fine wines, fun martinis, and Vermont micro brews.
Visit Piecasso Website
---


Pall Spera Company Realtors, 1800 Mountain Road, Stowe, VT 05672 | 800-253-2700
From starter homes, lots, commercial buildings, to vacation hideaways, cabins, condos and world class estates, we have three offices to serve you - in Stowe on the Mountain Road and in the Village, and in Morrisville on Brooklyn Street. We look forward to creating your dreams with you.
Visit Pall Spera Realtors Website
---


The Green Mountain Inn, 18 Main St., P.O. Box 60, Stowe, VT 05672 | 800-253-7302
Experience warm hospitality in an historic landmark in the heart of Stowe Village. Beautifully restored, the Inn offers the perfect blend of modern luxury and country elegance in over 100 rooms, fireplace suites, luxury rooms, exquisite village apartments and townhouses. Two superb restaurants, afternoon tea, year-round outdoor heated swimming pool, outdoor Jacuzzi, children's pool, two firepits and fully equipped health club. Classic setting for weddings, conferences and events.
Visit Green Mountain Inn, Stowe, VT
---


The Governor's House in Hyde Park, 100 Main Street, Hyde Park, VT 05655 | 802-888-6888 or Toll-Free 866-800-6888
Centerpiece of a quiet village, the completely restored historic mansion offers modern comfort with the gracious elegance of an earlier time. Period furnishings. Bedroom fireplaces. Mountain views. Jane Austen weekends. Afternoon tea. Small private events, and weddings. The perfect elopement package.
Visit Governor's House Inn in Hyde Park, VT

---
inns | hotels | resorts | rentals | attractions | dining | real estate

Vermont Products | Visit VT Towns | FWM 24/7 Shopping

Country Weddings | New England Recipes
VT Inns | Red Sox Gifts | Travel Destinations
Fitness and Sports Products On Sale Now
Free World Mall

Country Weddings | New England Recipes
VT Inns | Red Sox Gifts | Travel Destinations