Vermont Boating & Marinas
VT Boat Sales Rentals Marinas & Watercraft

Vermont has many wonderful lakes and ponds that are ideal for boating. Nestled among Vermont's green mountains are some of the most wonderful scenic spots, just waiting to be enjoyed. The absence of a coastline has not hindered boaters from flocking to Vermont for fun on the water. The plethora of lakes, ponds and rivers offers boating, kayaking, canoeing and other watersport options. Ask us about VT Marinas or share Vermont boating info. To feature your VT marina, contact us.
Vermont Boating & Marinas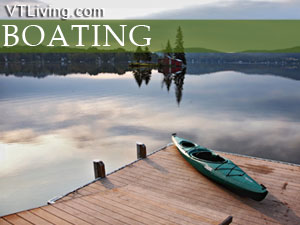 In addition to boating, water skiing, windsurfing, canoe, kayaking, fishing, and scuba diving, Vermont's bodies of water also offer waterfront homes, lakefront real estate opportunities, and lakefront weddings.
Lake Champlain is the largest of all Vermont lakes and separates Vermont from New York state. Lake Champlain, Lake Memphremagog and Wallace Pond all share shoreline with Canada. Vermont boating is big business. There are Vermont Boat Dealers, Marinas, Shrink-wrapping, and fishing guides located throughout the state.
Follow the links below for additional information about Vermont Boating.
Vermont Boat Dealers | Vermont Marinas | RV Dealers |
Vermont Lakes | Vermont Depth Charts | Vermont Fishing

Vermont Products | Visit VT Towns | FWM 24/7 Shopping

Country Weddings | New England Recipes
VT Inns | Red Sox Gifts | Travel Destinations
Fitness and Sports Products On Sale Now
Free World Mall

Country Weddings | New England Recipes
VT Inns | Red Sox Gifts | Travel Destinations