Vermont Boating Safety
Safety Tips for Boating Vermont's Lakes & Ponds

Vermont may be a land locked state but there are plenty of lakes for the avid boater to enjoy. The largest being of course Lake Champlain along Vermont's western border. Vermont has many wonderful lakes and ponds that are ideal for boating. Nestled among Vermont's green mountains are some of the most wonderful scenic spots, just waiting to be enjoyed. Of all six New England states, Vermont is the only one that is completely landlocked. However, the absence of a coastline has not hindered boaters from flocking to Vermont for some outdoor fun. The plethora of lakes and ponds throughout the Green Mountain state offers more than enough boating and watersport options for all. Ask us about VT Marinas or share Vermont boating info. To feature your VT marina, contact us.
Vermont Boat Safety – Boating & Marinas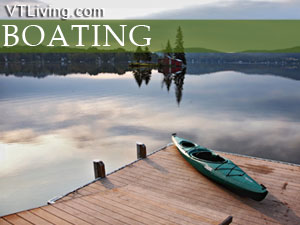 Essential safety tips for safe boating.  Always wear your life jacket.  Falling overboard into cold water will take the breath away from the strongest swimmer.  Just remember that life jackets only work when you are wearing them.  Read and obey your boat's safety limit.
Distribute weight evenly throughout the boat. Standing in a boat accounts for many spills overboard.
Remain Seated. It is best to remain seated unless absolutely necessary.
Be aware of the weather before heading out and especially aware while on the water.
Never drink alcohol while boating.  A typical day in a boat without drinking can impair reaction time as much as being legally drunk.
Leave a float plan.  Tell someone when and where you are going, and when you expect to return.  It is better to tell a loved one who will express more concern if you don't return on time.
~ Erik for nhliving.com
Vermont Boat Dealers | Vermont Marinas 
| RV Dealers |
Vermont Lakes | Vermont Depth Charts | 

Vermont Products | Visit VT Towns | FWM 24/7 Shopping

Country Weddings | New England Recipes
VT Inns | Red Sox Gifts | Travel Destinations
Free World Mall

Country Weddings | New England Recipes
VT Inns | Red Sox Gifts | Travel Destinations