Burton – Bigger Than Boards
Burton Snowboards – an International Force in Boarding, Outdoor Wear, Gear & Apparel

The company known simply as Burton is experiencing international growth and fame and it all began right here in Vermont. Jake Burton Carpenter, a New York state native found a passion for snowboarding and grew his company from the Green Mountain State. Ask us about Burton Snowboards or share comments. Feature your business, contact VTLiving.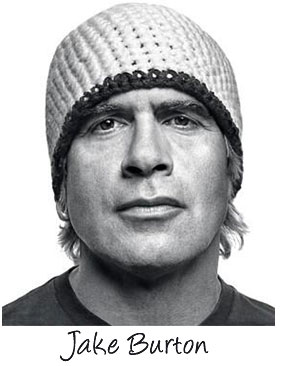 Jake moved to Londonderry, Vermont in the early 1970s and began to make Burton Snowboards with his cofounder Dimitrije Milovich. Getting permission from Vermont ski areas to allow snowboards or "surfboards" on their hills, proved to be an interesting challenge.
Suicide Six Ski Area (which has since been re-named) in Pomfret was the first. Stratton, Stowe, Killington, and Jay Peak followed. The snowboarding craze began – pushed by "popular demand" a new sport was born.

Just about every boarder in the world has heard of Burton Snowboards, outdoor wear, gear, and apparel. The company has played a major role in snowboards and other products.
http://amzn.to/2lbmWik The original Burton store was located in downtown Burlington, Vermont. Burton now operates more than 1,500 retail stores worldwide. Burton stores sell Burton snowboards and other Burton products – some with the Burton label others not. Other brands of snowboard accessories are available like; Anon Optics, RED helmets, Analog outerwear, and Gravis footwear.
Burton Snowboards were manufactured in Vermont until 2010 when the company moved manufacturing to Austria.
Burton USA
80 Industrial Parkway
Burlington, VT 05401
Ph: 800-881-3138
inns | hotels | resorts | rentals | attractions | dining | real estate
SHOP 24/7 at FREE WORLD MALL
Burton SALE

| Photo | Title | Price | Buy |
| --- | --- | --- | --- |
| | Burton 2022 Instigator Mens 160cm Snowboard | | On Sale Now |
| | Burton 2022 Cartographer Mens 159cm Snowboard | | On Sale Now |
| | Burton 2022 Flight Attendant Mens 162Wcm Snowboard | | On Sale Now |
| | Burton Mens Gore-Tex Reserve Bib, True Black, Medium | $359.95 | On Sale Now |
| | Burton 2022 Hideaway Womens 144cm Snowboard | $439.95 | On Sale Now |
| | Burton Men's Standard Dunmore Jacket, Folkstone Gray, Large | $220.37 | On Sale Now |
| | Burton Mission Mens Snowboard Bindings Sz M (8-11) Black | $229.95 | On Sale Now |
| | Burton Stylus Womens Snowboard Sz 147cm | | On Sale Now |
| | Burton Step On Genesis Mens Snowboard Bindings Black Sz M (8.5-10.5) | $379.95 | On Sale Now |
| | Burton Womens Society Pant, Stout White New, Medium | | On Sale Now |
| | Burton Womens Vida Pant, Dress Blue New, Small | $179.95 | On Sale Now |
| | Burton Mint Boa Snowboard Boot Womens Black 8 | | On Sale Now |
| | Burton Mini Grom Snowboard Boots Kid's Sz 10C Black | $185.22 | On Sale Now |
| | Burton Womens Chescott Down Jacket, True Black, Medium | | On Sale Now |
| | Burton Mens Gore-Tex Mitten, True Black New, Large | $94.99 | On Sale Now |
| | Burton Men's Standard Gore-TEX Powline Jacket, Lunar Gray/True Black, Medium | | On Sale Now |
| | Burton Women's Gloria Insulated Pant, Medium, Port Royal W20 | $266.39 | On Sale Now |
| | Burton Step On Mens Snowboard Bindings Black Sz L (11-13) | $299.95 | On Sale Now |
| | Burton Womens Jet Set Jacket, Port Royal Heather New , Medium | $199.28 | On Sale Now |
| | Burton Men's Standard Gore‑TEX Reserve Bib Pant, White, Large | | On Sale Now |
| | Burton Chicklet Girls Snowboard Sz 100cm | | On Sale Now |
| | Burton Kids Boys Uproar Jacket Black Denim 3 M (10-12 Big Kids) | | On Sale Now |
| | Burton Toddlers' Mini Grom Disc Snowboard Bindings (Small (7c-13c), White) | $99.95 | On Sale Now |
| | Burton Womens Avalon Bib Softshell, True Black, Medium | | On Sale Now |
| | Burton Vent Gore-Tex Snowboard Pants Mens Sz L Keef | $279.95 | On Sale Now |
| | Burton Womens Gore-Tex Avalon Bib Pant, True Black, Medium | $456.24 | On Sale Now |
| | Burton 2022 Free Thinker Mens 154cm Snowboard | | On Sale Now |
| | Burton Women's Standard Gore-TEX Treeline Jacket, Martini Olive/Crème Brûlée, Small | $250.81 | On Sale Now |
| | Burton Mens Gore-Tex Under Glove, Bog Heather New, Small | $71.34 | On Sale Now |
| | Burton Women's Gloria Snow Pant, Forest Night W20, Small | $153.66 | On Sale Now |
BURTON SNOWBOARDS

BURTON APPAREL

Vermont Products | Visit VT Towns | FWM 24/7 Shopping

Country Weddings | New England Recipes
VT Inns | Red Sox Gifts | Travel Destinations
Fitness and Sports Products On Sale Now
Free World Mall

Country Weddings | New England Recipes
VT Inns | Red Sox Gifts | Travel Destinations