Champlain Valley VT Campgrounds
Burlington Middlebury Champlain Island VT RV Parks & Campgrounds

There are beautiful Champlain Valley northwestern Vermont camping sites, RV Parks, and full-service campgrounds near Burlington and Lake Champlain. Vermont Camping season peaks from late June to late September when prime camping and RV sites are in peak demand. For best results arrange for your Champlain Valley Vermont Camp Site in advance. Ask us about Vermont Camping or RV Parks or share campground comments.  Feature your Vermont campground or RV dealership, contact us. Safe and happy RV travels and camping from Vermont Living Magazine.
Champlain Valley Vermont Campgrounds


Lone Pine Campsites, 52 Sunset View Road, Colchester, VT | 802-878-5447
Known across New England and beyond as "Vermont's Favorite Family Campground", Lone Pine Campsites offers the quintessential Vermont camping experience in one of the most beautiful regions of the state, the Lake Champlain Valley. Located a mere stone's throw from Mallets Bay and 15 minutes from downtown Burlington, our 265 spacious campsites are surrounded by native trees and wildlife. We provide several RV hook-up options, offer RV rentals, and are happy to welcome tent campers.
Visit Lone Pine Campsites - Colchester
---


Lake Lyster Campground, 360 Chemin de Chalets, Coaticook, PC J1A 2S4 | 819-345-3787
A haven of tranquility! Lake Lyster Campground, in Coaticook, the Eastern Townships of Quebec is just 25 mins from the Vermont border. Enjoy 60 acres of Campsites, just across the road from beautiful Lake Lyster, with 25 ready-to-camp sites including 11 mini-cabins with private toilets + 14 prospector-style tents. Rent Kayaks or paddleboards, hike Mount Pinacle or relax with a good book. Tranquility and peace await you ... book your campsite now, where camping, glamping, and nature combine!
Visit Lake Lyster Campground - Coaticook, Quebec, CA

---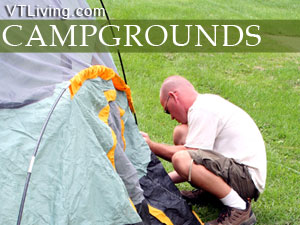 Camp Skyland
398 South Street
South Hero, VT 05486
Ph: 802-372-4200
Carry Bay Cottages
Route 2
North Hero, VT 05474
Ph: 802-372-8233
Green Mountain Family Campground
4817 Rte 116S
Bristol, VT 05443
Ph: 802-453-3123
Goose Point Campground
526 US Route 2 South
Alburg, VT 05440
Ph: 802-796-3711
Hillcrest Campground & Cottages
686 Basin Harbor Road
Ferrisburg, VT 05456
Ph: 802-475-2343
Northwestern Vermont Area National Forest Campgrounds
Breadloaf Wilderness Camp
Breadloaf, VT 05753
No Phone – Largest wilderness area within Green Mountain National Forest – Primitive Camping Only
Bristol Cliffs Wilderness Camp
Bristol, VT 05443
No Phone – Spectacular cliffs and views of Lake Champlain and the Adirondack Mountains in Green Mountain National Forest – Primitive Camping Only
Green Mountain National Forest Campgrounds
U.S. Forest Service Office
North Main Street
Rutland, VT 05701
Ph: 802-747-6700
– Rugged exposed heights and secluded hollows in 19 Recreation Areas and 6 Wilderness Areas.
inns | hotels | resorts | rentals | attractions | dining | real estate
Camping Tent Sale

Champlain Valley VT Campground / RV Lodging
Burlington, Middlebury, St. Albans, the Islands of NW Vermont
North Central VT Campground – RV Lodging
Montpelier, Barre, Randolph, Waterbury, Stowe, Mad River Valley
Northeast Kingdom VT Campground – RV Lodging
St. Johnsbury, Newport, Barton, Lyndonville, Burke, Jay, Island Pond
South Central VT Campground -RV Lodging
Rutland, White River Jct., Woodstock, Quechee, Brandon, Killington, Ludlow, Weston, Chester
Southern VT Campground -RV Lodging
Bennington, Brattleboro, Manchester, Arlington, Newfane, Mt. Snow area

Vermont Products | Visit VT Towns | FWM 24/7 Shopping

Country Weddings | New England Recipes
VT Inns | Red Sox Gifts | Travel Destinations
Fitness and Sports Products On Sale Now
Free World Mall

Country Weddings | New England Recipes
VT Inns | Red Sox Gifts | Travel Destinations