Vermont Camping Safety Checklist
Backwood Travel Tips Survival Techniques

The gateway is the Southern Vermont Region – and here you will find riverside camping, RV Parks, and privately owned family campgrounds. Vermont Camping season peaks from late June to late September. To feature your VT Camp site.contact us. Safe and happy RV travels and camping from Vermont Living Magazine.
Vermont Campgrounds & RV Parks


Lone Pine Campsites, 52 Sunset View Road, Colchester, VT | 802-878-5447
Known across New England and beyond as "Vermont's Favorite Family Campground", Lone Pine Campsites offers the quintessential Vermont camping experience in one of the most beautiful regions of the state, the Lake Champlain Valley. Located a mere stone's throw from Mallets Bay and 15 minutes from downtown Burlington, our 265 spacious campsites are surrounded by native trees and wildlife. We provide several RV hook-up options, offer RV rentals, and are happy to welcome tent campers.
Visit Lone Pine Campsites - Colchester
---


InGear Outfitters: Rooted In Cycling Your Headquarters for Bombtrack, Merckx, Hollandia and Joey.
---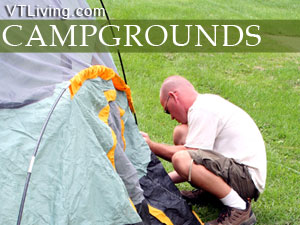 Planning is the most important aspect of a camping trip, whether your destination is a secluded deep woods location or a paid camping lot at a campground.  Mother Nature can deal up a large variety of challenges and obstacles, so it is best to be overly prepared.
Packing is essential to an enjoyable camping excursion.  Comfort is important, so make sure to bring apparel for all weather conditions.
It is best to bring non perishable food items that are high in energy.  Remember that water is easy to come by at home, but out in the wilderness it might be a challenge, so pack plenty of water.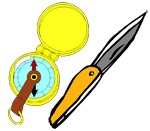 Pack emergency items such as a first aid kit, sunscreen, pain relievers, and bug spray. You should also bring a map and compass, flashlight, waterproof matches, a knife, and nylon cord.  More importantly, learn how to use these items in the event of an emergency.
Before departing, check the weather report!  This will help you plan what you need to do when you first arrive.  Try and plan on arriving early.  It can be very difficult to setup a tent in the dark, especially in inclement weather. 
Choose your campsite location carefully.  Try and find a site that is free of natural hazards such as low lying areas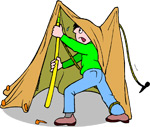 that are prone to becoming wet.  An ideal location would be level, free of debris, soft ground, and sheltered by some trees. 
If you choose to have a fire at your campsite, make sure it is away from trees and far from your tent.  Never leave a fire unattended.  When extinguishing a fire, use plenty of water, and or dirt, and stir up all hot coals to prevent the fire from reigniting.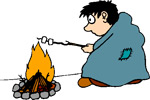 Properly dispose of all garbage and waste products.  Improperly disposing of garbage can result in conflicts with bees, other insects, and often times wild animals.
Do not approach wild animals.  A wild animal can become extremely unpredictable when provoked.  Keep your campsite and yourself clean at all times to help avoid conflict with wildlife.
~ Erik T for vtliving.com
Champlain Valley VT Campground / RV Lodging
Burlington, Middlebury, St. Albans, the Islands of NW Vermont
North Central VT Campground – RV Lodging
Montpelier, Barre, Randolph, Waterbury, Stowe, Mad River Valley
Northeast Kingdom VT Campground – RV Lodging
St. Johnsbury, Newport, Barton, Lyndonville, Burke, Jay, Island Pond
South Central VT Campground -RV Lodging
Rutland, White River Jct., Woodstock, Quechee, Brandon, Killington, Ludlow, Weston, Chester
Southern VT Campground -RV Lodging
Bennington, Brattleboro, Manchester, Arlington, Newfane, Mt. Snow area

Vermont Products | Visit VT Towns | FWM 24/7 Shopping

Country Weddings | New England Recipes
VT Inns | Red Sox Gifts | Travel Destinations
Free World Mall

Country Weddings | New England Recipes
VT Inns | Red Sox Gifts | Travel Destinations