VT Canoeing & Kayaking
Vermont Kayak and Canoe Vacations

Vermont is an excellent choice for canoeing and kayak fun. Vermont is the only New England state without ocean frontage, but you'll still find plenty of crystal-clear lakes and rivers that beckon to canoe and kayak enthusiasts. Many Vermont lodging establishments are located on or near these waters and offer onsite canoe and kayak rentals, as well as drop-off and pick-up services. Ask us about Vermont canoe and kayak tours or share comments. To feature your VT business, contact us.
Vermont Canoeing & Kayak Tours & Vacations


Vermont Adventure Tours, 223 Woodstock Ave. Rutland, VT 05701
Central Vermont has many great areas to tour by canoe or kayak. Looking for a scenic paddle or a view from a different perspective? Kayaks and Canoes are prefect vehicles to spot wildlife or have an awesome family afternoon. We provide the transportation, the boats, life vest, paddles, and everything else to make your day as relaxing and enjoyable as possible.
Visit Vermont Adventure Tours Website
---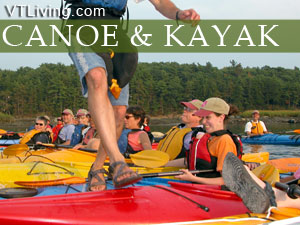 Some of Vermont's most notable canoeing and kayaking rivers include the Connecticut that serves as the border between the states of Vermont and New Hampshire, the Batten Kill in southeastern Vermont, the Lamoille which crosses Vermont's northern region, the Missisquoi in the northwest corner, and the Winooski and White Rivers in north central Vermont.
There are numerous other Vermont rivers and lakes that offer delightful adventures for all ages.
Visit our VT lodging guide to find properties that offer canoe and kayak rentals, as well as access to other wonderful outdoor activities such as hiking and mountain biking.
Missing Something? Share your comment or business review

Vermont Products | Visit VT Towns | FWM 24/7 Shopping

Country Weddings | New England Recipes
VT Inns | Red Sox Gifts | Travel Destinations
Free World Mall

Country Weddings | New England Recipes
VT Inns | Red Sox Gifts | Travel Destinations