Champlain Valley Islands
History & Tourism – Lake Champlain VT Islands

The Champlain Islands of Vermont are located at the Northwestern corner of Vermont on the New York-Canadian border. Sandwiched between the beauty of the Green Mountains to the East and Whiteface Mountain and the Adirondacks to the west, the scenery it not to be missed. Visit the towns of Grand Isle, North Hero and South Hero on Isle la Motte. They are easily accessible via car off I-89 in Vermont or via car and ferry boat on I-87 connecting with the Ferry just outside of Plattsburgh, NY. Ask us about the Champlain Islands in Vermont or share comments. 
Lake Champlain Islands Vermont Vacations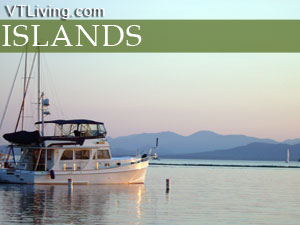 These Islands have historic value going back to 1609 when Samuel De Champlains first visited them. There are historic sites located throughout the islands including battle areas from the French and Indian War. Ethan Allen and his relatives also had a large influence in this area.
Spring and summer bring every possible outdoor and water sports within just a few miles — hiking, biking, canoeing, kayaking, fishing and of course boating on Lake Champlain. Many lovely sandy beaches can be found along with swimming holes. Local area farmers' markets, art festivals, outdoor concerts and lake activities are common most weekends in the area.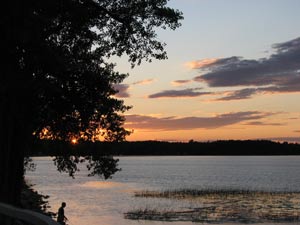 The Islands are well known for their fabulous apple orchards to pick your own apples. Open during the week, you can often smell the aroma of apple pie in the air. Taste the freshly made cider and sample the cider donuts. An annual Apple Festival during the fall will attract many more vendors and crafts people. The foliage will be abundant during this period and the backdrop of Lake Champlain will only enhance it.
Winter brings a different perspective to the Islands. Ice festivals, ice fishing, snowshoeing, cross-country skiing and downhill skiing are all within an hour drive. There are several great choices for lodging in the area, however renting your own home can make your stay in the Champlain Islands a bit more enjoyable. Many have lake views and are pet-friendly or may even have a boat dock.
Whatever your reason to visit The Champlain Islands, remember to relax and smell the wonderful clean Vermont air.

Vermont Products | Visit VT Towns | FWM 24/7 Shopping

Country Weddings | New England Recipes
VT Inns | Red Sox Gifts | Travel Destinations
Free World Mall

Country Weddings | New England Recipes
VT Inns | Red Sox Gifts | Travel Destinations