Rutland Woodstock Vermont Church Guide
Houses of Worship in Vermont

You will find an assortment of Houses of Worship in the Rutland area of Vermont. Feature your Vermont church, synagogue, chapel or house of worship in Vermont Living Magazine. Please note, this information is subject to change without notice, please call in advance to to confirm hours of operation. Please share your update or comments. To feature your VT House of Worship, contact us.
Rutland Woodstock South Central VT Houses of Worship
Assembly of God • Baptist • Bible • Catholic • Missionary Alliance • Christian Fellowship • Church of Christ • Community Church • Congregational • Episcopal • Evangelical • Foursquare • Gospel • Synagogues • Latter Day Saints • Lutheran • Menonite • Non-Denominational • Seventh Day Advent • United Church of Christ • United Methodist • Universalist
---
Assembly of God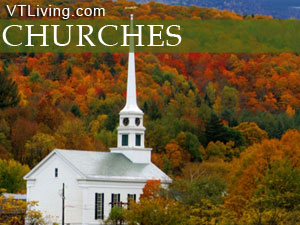 Assembly of God
1680 Town Line Rd.
Rutland, VT 05701
Ph: 802-775-5805
Faith Assembly of God
Route 107
Bethel, VT 05032
Ph: 802-234-6726
Sunday Worship 10:30am
Baptist
Baptist Fellowship of Randolph
Route 66
Randolph, VT 05060
Ph: 802-728-5318
Sunday School 9:30AM, Sunday Worship 10:45AM & 6:00PM, Adult Worship Wednesday 7:00PM, Youth Group Wednesday 6:30PM
East Randolph Baptist Church
Route 14
East Randolph, VT 05041
Ph: 802-728-5764
Sunday Worship 10:30AM, Sunday School 9:30AM, Wednesday Prayer Meeting & Bible Study 7:00PM.
First Baptist Church
81 Center St.,
Rutland, VT 05701
Ph: 802-773-8010
Thetford Baptist Church
East Thetford, VT 05043
Ph: 802-785-2050
Woodstock Baptist Fellowship
West Woodstock, VT 05091
Ph: 802-457-2599
East Wallingford Baptist Church
Route 140,
East Wallingford, VT 05742
Ph: 802-259-2831
Sunday School at 10: AM; Morning Worship at 11:00 AM, Evening Service at 6:30 PM. Call to confirm schedule.
Bible
Reformed Bible Church
Route 133,
West Rutland, VT 05777
Ph: 802-438-5339
Valley Bible Church
2 Hyde Park Ave.,
White River Junction, VT 05001
Ph: 802-295-5000
Catholic
St. Mary's Catholic Church
Carver St.
Brandon, VT 05733
Ph: 802-247-6351
Saturday Mass 4pm, Sunday Mass 10:30am
Christ the King Parish
66 S. Main St.,
Rutland, VT 05701
Ph: 802-773-6820
Our Lady of the Snows Roman Catholic Church
South St., Route 106,
Woodstock, VT 05091
Ph: 802-457-2322
Sts. Donatian & Rogatian Catholic Church
Randolph, VT 05060
Phone: 802-728-3227
Saturday Mass 4pm, Sunday Mass 10am
St. Elizabeth's Catholic Church
Rochester, VT 05767
Ph: 802-234-9916
Sunday Mass 9am
Christian & Missionary Alliance
Alliance Community Fellowship
Howe Center
Rutland, VT 05701
Ph: 802-773-3613
Sunday; 10:30am
Christian Fellowship
Beth-El Christian Fellowship
412 South Windsor Street
South Royalton, VT 05068
Ph: 802-763-2139
Worship Sunday10:00am
Church of Christ
Upper Valley Church of Christ
Rt. 4 West
White River Junction, VT 05001
Ph: 802-295-9631
Sunday Bible Study 9:30am, Sunday Worship 10:30am & 6pm, Wednesday Bible Study 7pm
First Church of Christ Scientist
River Street & Eaton Place
Woodstock VT 05091
Ph: 802-457-2587
Sunday Worship & School 10am, Wednesday Meeting 7:30pm
Community Church
Quechee Community Church
Main St.,
Quechee, VT 05059
Ph: 802-295-3619
The Tunbridge Church
Tunbridge, VT 05077
Ph: 802-889-5577
Sunday Worship 10:30AM, Study Group 9:30AM, Sunday School 10:30AM
The Community Church of Hancock & Granville
Hancock/Granville, VT 05748
Ph: 802-728-5828
Sunday Worship & School 9:30AM
Two Rivers Community Church
Seven Stars Center, Route 14
Sharon, VT 05065
Ph: 802-765-4924 or 802-763-8395
Congregational
Brandon Congregational Church
Carver St.
Brandon, VT 05733
Ph: 802-247-6058
Sunday Worship 10am
Clarendon Congregational Church (a.k.a. "The Old Brick Church at Clarendon")
298 Middle Road
N. Clarendon, VT 05759
Ph: 802-773-3873
Sunday Worship 10am
North Pomfret Congregational Church
North Pomfret, VT 05053
Ph: 802-457-3259
Sunday Worship 10am
First Congregational Church of Fairhaven
2 North Park Place
Fairhaven, VT 05743
Ph: 802-265-8864
First Congregational Church of Woodstock
36 Elm St.
Woodstock, VT 05091
Ph: 802-457-9818
Sunday Worship 10:30am & 6pm, Sunday School 9:15am
Salisbury Congregational Church
Salisbury, VT 05769
Ph: 802-352-9080
Episcopal
Christ Church Episcopal
North Main St.
Bethel, VT 05032
Ph: 802-234-5680
Sunday Worship & School 10am
Church of our Savior
Mission Farm Rd.
Killington, VT 05751
Ph: 802-422-9064
Sunday Worship 9:30am
Trinity Episcopal Church
85 West St.
Rutland, VT 05701
Ph: 802-775-4368
St. James' Episcopal Church
On the Green
Woodstock, VT 05091
Ph: 802-457-1727
St. John's Episcopal Church
Randolph, VT 05060
Ph: 802-728-9910
St. Paul's Episcopal Church
27 Taft Ave.
White River Junction, VT 05001
Ph: 802-295-5415
St. Thomas' Episcopal Church
Conant Square
Branton, VT 05733
Ph: 802-247-6759
Sunday Worship 10am
Evangelical
Bradford Evangelical Free Church
US Route 5
Brookfield, VT 05036
Ph: 802-222-9021
Trinity Evangelical Free Church
North Main St.
Windsor, VT 05089
Ph: 802-674-6781
Foursquare
Journey
412 S Windsor St.
South Royalton, VT 05068
Ph: 802-763-2139
Gospel
Green Mountain Gospel Chapel
Hebard Hill & Route 66
Randolph, VT 05060
Ph: 802-728-5531
Sunday Worship 10:15am, Sunday School 9am
Norwich Full Gospel Voice Church
U.S. Route 5 North
Norwich, VT 05055
Ph: 802-649-1615
West Hill Independent Gospel Church
Chelsea, VT 05038
Ph: 802-234-9225
Sunday Worship 11am, Sunday School 10am, Wednesday Bible Study 7pm
Synagogues
Upper Valley Jewish Community
13 Summer St.
Hanover, NH 03755
Ph: 603-643-8378
Jewish Community of Woodstock
A member of the Union of American Hebrew Congregations –
Ph: 802-296-5999
Rutland Jewish Center
96 Grove St.
Rutland, VT 05701
Ph: 802-773-3455
Shir Shalom
Route 4
Woodstock, VT 05091
Ph: 802-457-5145
Latter-Day Saints
The Church of Jesus Christ of Latter-Day Saints
North Shrewsbury Rd.
North Clarendon, VT 05759
Ph: 802-773-8346
The Church of Jesus Christ of Latter-Day Saints
Route 5
Ascutney, VT 05030
Ph: 802-674-5002
Lutheran
Good Shepard Lutheran Church
Hillside Rd.
Rutland, VT 05701
Ph: 802-773-9659
Messiah Lutheran Church – LCMS
42 Woodstock Ave.
Rutland, VT 05701
Ph: 802-775-0231
St. Paul's Lutheran Church
6 Gibbs St.,
Proctor, VT 05765
Ph: 802-459-2728
Menonite
Bethany Mennonite Church
Bridgewater Corners, VT 05035
Ph: 802-672-3488
Sunday Worship 9:45am, Sunday School 10:45am
Non-Denominational
Forest Dale Wesleyan Church
Forest Dale Rd.,
Brandon, VT 05733
Ph: 802-247-6748
Sunday Worship 11am
Calvary Bible Church
2 Meadow Lane
Rutland, VT 05701
Ph: 802-775-0358
Church of Christ
Rt. 4 West
Quechee, VT 05059
Ph: 802-295-9631
Wellspring of Life Christian Center
18 Chaplin Ave.
Rutland, VT 05701
Ph: 802-773-5991
Sunday Worship 10:30am, Sunday School 9am, Thursday Worship 7pm
Oak Chapel Christian Fellowship
Bridgewater Center, VT 05035
Ph: 802-672-3506
Sunday Bible Study 9am, Sunday Worship 10am
Praise Chapel Christian Outreach Training Center
221 Route 14
Hartford, VT 05047
Ph: 802-296-8447
The Rock Church
Rt. 4 West
Woodstock, VT 05091
Ph: 802-457-2599
Sunday Worship 10am, Wednesday Prayer & Intersession 7pm
Seventh Day Advent
Seventh Day Adventist Church
158 Stratton Rd.
Rutland, VT 05701
Ph: 802-775-3178
Seventh Day Adventist Church
Route 12A
Braintree, VT 05060
Ph: 802-728-5850
Saturday Worship 9:20am, Thursday Prayer Meeting 6pm
United Church of Christ
Bethany United Church of Christ
Main St.
Randolph, VT 05060
Ph: 802-728-5849
Sunday Worship & School 10am
Church of Christ at Dartmouth College
40 North College Rd.
Hanover, NH
Ph: 603-643-3150
Sunday Worship & School 10am
Grace Congregational United Church of Christ
Court St.
Rutland, VT 05091
Ph: 802-775-4301
United Church of West Rutland
Pratt Hall
West Rutland, VT 05777
Ph: 802-438-2861
United Methodist
Brandon United Methodist Church
Carver St.
Brandon, VT 05733
Ph: 802-247-6524
Sunday Worship 10:30am
Methodist Church of White River Junction
32 Gates Rd.
White River Junction, VT 05001
Ph: 802-295-7091
Methodist Old Stone Church
Reading-Tyson Rd.
South Reading, VT 05062
Ph: 802-228-8259
Sunday Worship 10am, Bible Study 2pm
Poultney United Methodist Church
108 Main St.
Poultney, VT 05764
Ph: 802-287-5710
The United Church of Randolph
Main St.,
Randolph, VT 05060
Ph: 802-728-3228
Sunday Worship 10:30am, Sunday School 9:15am, Monday Bible Study 6pm
United Methodist Church of Rutland
71 Williams St.
Rutland, VT 05091
Ph: 802-773-2460
Universalist
North Universalist Chapel Society – Unitarian Universalist Church
7 Church St.
Woodstock, VT 05091
Ph: 802-457-2557
Sunday Worship & School 10am
Unitarian Universalist Church
Hartland Four Corners, VT 05049
Ph: 802-436-2592
Sunday Worship & School 10am
Unitarian Universalist Church
2 Billings Farm Rd.
White River Junction, VT 05001
Ph: 802-295-3553
inns | hotels | resorts | rentals | dining | real estate
Champlain Valley VT Churches
Burlington, Middlebury, St. Albans, the Islands of NW Vermont
North Central VT Churches
Montpelier, Barre, Randolph, Waterbury, Stowe, Mad River Valley
Northeast Kingdom VT Churches
St. Johnsbury, Newport, Barton, Lyndonville, Burke, Jay, Island Pond
South Central VT Churches
Rutland, White River Jct., Woodstock, Quechee, Brandon, Killington, Ludlow, Weston, Chester
Southern VT Churches
Bennington, Brattleboro, Manchester, Arlington, Newfane, Mt. Snow area

Vermont Products | Visit VT Towns | FWM 24/7 Shopping

Country Weddings | New England Recipes
VT Inns | Red Sox Gifts | Travel Destinations
Free World Mall

Country Weddings | New England Recipes
VT Inns | Red Sox Gifts | Travel Destinations