Vermont Cinemas
Guide to VT Movie Theaters & Drive-Ins

Visit a Vermont Cinema, Movie House or and old-fashioned Vermont Drive-In Theater. When you're in the mood to take in a movie – find Vermont Theater near you. There have been a number movies made in Vermont and of course Vermont Drive-Ins only operate in the warm weather months. Contact the movie theaters to confirm hours and current movie selections. To feature your local business in Vermont Living, contact us.
Vermont Cinemas, Movie Theaters & Drive-Ins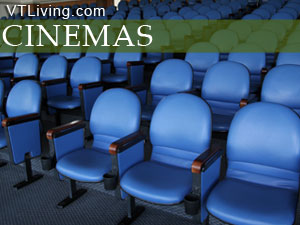 Essex Cinemas & T-Rex Theater
21 Essex Way, Suite 300
Essex, VT
Ph: 802-879-6543
Website: essexcinemas.com
Majestic 10
190 Boxwood St. (Maple Tree Place Taft Corners)
Williston, VT
Ph: 802-878-2010
Website: majestic10.com
Marquis Theater
Main Street
Middlebury, VT
Ph: 802-388-4841
Website: middleburymarquis.com
Merrill's Roxy Cinemas
222 College Street
Burlington, VT
Ph: 802-864-3456
Website: merrilltheatres.net
Ethan Allen Cinema
North Avenue, Ethan Allen Shopping Center
Burlington, VT
Ph: 802-863-6040
Latchis Theater
50 Main Street
Brattleboro, VT
Ph.: 802-246-1500
Very cool old Art Deco theater built in 1938, reasonable prices and friendly staff.
Cinema 7 Bennington
125 Phyliss Lane
Bennington, VT
Ph: 802-442-8170
Website: benningtoncinemas.com
Big Picture Theater
48 Carroll Rd.
Waitsfield, VT
Ph.: 802-496-8994
Website: bigpicturetheater.info
Palace 9 Cinemas
10 Lafayette Dr.
South Burlington, VT
Ph: 802-864-5610
Website: palace9.com
City Cinema Newport
Waterfront Plaza
Newport, VT
Ph: 802-334-2610
Website: citycinemanewport.com
Flagship Premium Cinemas Rutland
143 Merchants Row
Rutland, VT
Ph: 802-786-8004
Website: flagshipcinemas.com/rutlandhome.html
Bijou Complex 4
Route 100
Morrisville, VT
Ph.: 802-888-3293
Website: bijou4.com
Capitol Showplace
93 State Street
Montpelier, VT 05602
Ph: 802-229-0343
Website: fgbtheaters.com
Stowe Cinema 3 Plex & Projection Room Lounge
Mountain Road
Stowe, VT 05672
Ph: 802-253-4678
Website: stowecinema.com
Catamount Arts
60 Eastern Avenue
St. Johnsbury, VT 05819
Ph: 802- 748-2600
Fairlee Drive-In Theater
Rt. 5,
Fairlee, VT 05045
Ph.: 802-333-9192
An old-fashioned 50's styled Drive-In with a motel unit. Seasonal.
Paramount Twin Cinema
241 North Main Street
Barre, VT
Ph: 802-479-9621
Website: fgbtheaters.com
The Savoy Theater
241 North Main Street
Montpelier, VT
Ph: 802-229-0598
Website: savoytheater.com
Village Picture Shows Inc.
263 Depot St. Route 11 & 30
Manchester Shopping Center
Manchester Center, VT 05254
Welden Theatre
104 No. Main Street
St. Albans, VT
Ph: 802-527-7888
Website: weldentheatre.com

Vermont Products | Visit VT Towns | FWM 24/7 Shopping

Country Weddings | New England Recipes
VT Inns | Red Sox Gifts | Travel Destinations
New England Living Magazine
Free World Mall

Country Weddings | New England Recipes
VT Inns | Red Sox Gifts | Travel Destinations