Vermont Covered Bridges
Guide to Finding Historic VT Covered Bridges

Welcome to Vermont – home of dozens of Covered Bridges. Whether in daily use or simply there to be explored, Vermont Covered Bridges are a unique feature of the Vermont landscape – taking us back to a distant time and place.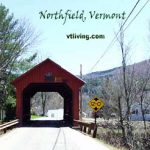 Find Vermont covered bridge locations, short descriptions and VT-covered bridge photographs.
There are more covered bridges per square mile in Vermont than any other place in the world. Scroll down to find authentic covered bridges throughout the state. Ask us about VT Covered Bridges, share comments, or to feature your business, contact us.



West Mountain Inn, River Road, Arlington, VT 05250 | 802-375-6516
Nestled on a mountainside, the century old, seven gabled West Mountain Inn invites guests to discover its many treasures. Distinctively decorated guest rooms, comfortable common areas, 150 woodland acres with wildflowers, a bird sanctuary, and llamas. Miles of wilderness ski or hiking trails and the Battenkill River provide seasonal outdoor activities. Private dining and meeting rooms, A unique space for celebrations of weddings, birthdays, anniversaries, family reunions, or business meetings.
Visit West Mountain Inn Arlington
---


Vermont Illustrating LLC. | 802-298-7325
Vermont Illustrating, LLC is a family owned business which has been distributing postcards and souvenirs throughout Vermont & the Adirondack New York regions since 2003. Vermont Illustrating produces the annual Vermont Living Calendar and related products. We offer the best variety of Vermont Souvenirs, Cookbooks, and best selling Vermont Calendar Products. Visit our website to order.
Visit Vermont Illustrating - Order Calendars Online
---
Champlain Valley VT Covered Bridges
Burlington, Middlebury, St. Albans, the Islands of NW Vermont
North Central VT Covered Bridges
Montpelier, Barre, Randolph, Waterbury, Stowe, Mad River Valley
Northeast Kingdom VT Covered Bridges
St. Johnsbury, Newport, Barton, Lyndonville, Burke, Jay, Island Pond
South Central VT Covered Bridges
Rutland, White River Jct., Woodstock, Quechee, Brandon, Killington, Ludlow, Weston, Chester
Southern VT Covered Bridges
Bennington, Brattleboro, Manchester, Arlington, Newfane, Mt. Snow area
Check out this live view from YouTube of the Vermont Covered Bridge in the Mad River Valley
SHOP 24/7 at FREE WORLD MALL

| Photo | Title | Price | Buy |
| --- | --- | --- | --- |
| | Vermont's Covered Bridges | $15.24 | On Sale Now |
| | Vermont Covered Bridges (VT) (Images of America) | $22.49 | On Sale Now |
| | Vermont Covered Bridge Shot Glass | $9.45 | On Sale Now |
| | Covered Bridges of Vermont | $7.49 | On Sale Now |
| | Timeless Crossings: Vermont's Covered Bridges | $29.74 | On Sale Now |
| | Fisher Railroad Covered Bridge Wolcott, Vermont T-Shirt | $19.99 | On Sale Now |
| | Danforth Pewter Covered Bridge Ornament – Handcrafted Pewter Vintage Style Christmas Ornaments – Satin Ribbon, 2", Made in USA | $24.99 | On Sale Now |
| | Art Studio Company Hand Painted Glass Christmas Ornament - Covered Bridge Vermont | | On Sale Now |
| | Arlington (Vermont) Covered Bridge - 12 inches - Made in USA | $69.99 | On Sale Now |
| | Umsufa Northfield Covered Bridges Vermont USA Christmas Tree Ornament Travel Gift Souvenir 3 Inch Porcelain Double Side | $12.99 | On Sale Now |
| | CafePress White Covered Bridge Colorful Autumn Vermont Mugs 11 oz (325 ml) Ceramic Coffee Mug | $17.99 | On Sale Now |
| | America's Covered Bridges: Practical Crossings - Nostalgic Icons | $8.97 | On Sale Now |
| | White Mountain Puzzles America - 1000 Piece Jigsaw Puzzle | $19.99 | On Sale Now |
Vermont Covered Bridges


Vermont Products | Visit VT Towns | FWM 24/7 Shopping

Country Weddings | New England Recipes
VT Inns | Red Sox Gifts | Travel Destinations
Free World Mall

Country Weddings | New England Recipes
VT Inns | Red Sox Gifts | Travel Destinations