Dutton Berry Farm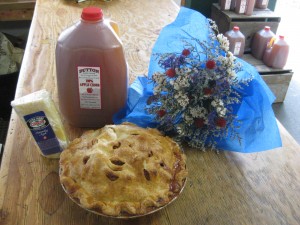 The Dutton Berry Farmstands and Greenhouse, Route 30, Newfane, VT, Routes 11 & 30 in Manchester, VT, and Route 9 in West Brattleboro, VT | 802-365-4168
Dutton Berry Farmstands are well known for their Vermont grown produce and other unique local products. Fresh picked apples straight from our orchard are available throughout apple season. Stop in and pick up a jug of Dutton Berry Farm's fresh made apple cider, made from our home grown apples. Whether it is fresh farmer-grown fruits and vegetables, cider, Vermont maple syrup or plants, you'll enjoy visiting a true Vermont farm experience.
Visit Dutton Berry Farmstands- VT
---
Here at Dutton's they're strong believers in buying locally. When you buy locally you know where your food is coming from, any Dutton grown product is at the most fifty miles from the field or orchard where it was picked when you choose it in one of the conveniently placed Dutton farm stands in southern Vermont. Many of Dutton employees are from right here in southern Vermont, where they live and re-invest their money.  Vermont is full of wonderful and unique products that should not go unnoticed! Try a Dutton Maple Creamee – awesome! Stop in today, help support the local Vermont economy. A highly recommended Vermont farm. Ask us about Dutton Farm Markets.
3 Southern Vermont Locations
Newfane, VT
Brattleboro, VT
Ph: 802-365-4168 (Newfane)
Visit Southern, Vermont.
Dutton Berry Farm is a recommended Vermont Orchard.

Vermont Products | Visit VT Towns | FWM 24/7 Shopping

Country Weddings | New England Recipes
VT Inns | Red Sox Gifts | Travel Destinations
Free World Mall

Country Weddings | New England Recipes
VT Inns | Red Sox Gifts | Travel Destinations