VT Living Facebook Page
Share Post & Bookmark VT Living's Facebook Page

We love Facebook – share tips, views photos and posts and share friends with our Facebook page. VT Living has been using Facebook for years and invites you to join us and share. Ask us about VT Living Facebook share policies or your comments. To feature your VT business online, contact us.
Facebook: Vermont Living Magazine
Thank you for visiting the only, official VT LIVING Facebook page.

Looking for something to do? Vermont Family Vacation Ideas, VT Getaway Lodging or Fun Things to Do in Vermont? Check out the links below. Safe Travels!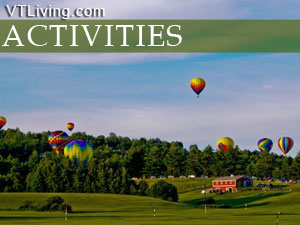 Check out Vermont's Top Events
Visit a Vermont Campground
Go Horseback Riding
See Vermont from above – take a Hot Air Balloon Ride
Skiing in Vermont
Hiking in Vermont
Golfing in Vermont
Fishing in Vermont
Cross-country Skiing in Vermont
Unwind at a Vermont Spa
Snowboarding in Vermont
Snowmobiling in Vermont
Bring the Kids for a Vermont Family Vacation
Visit a Vermont Art Gallery
Visit a Summer Theatre
Visit a Vermont Museum
Learn about Vermont birds, go Bird watching, or Share Bird Photos
Visit a Vermont Flea Market & Craft Fair
Take a Vermont Factory Tour
Visit a Vermont Country Fair or Exposition
Go canoeing or kayaking
Stay at a Romantic Vermont Inn
Discover a Great Vermont Restaurant
Go Car Shopping
Listen or Dance to "live" music
Shop Local at a Vermont Farmers' Market
Visit a Vermont tourist attraction
Visit a State of Vermont Historic Site
Get Married in Vermont!
Have a great Vermont Wedding
Watch Vermont Maple Syrup being made
Take a bike ride or walk on the Stowe Recreation Path
Find a Vermont covered bridge
Support the Arts! Visit a Vermont Theatre or Playhouse
Tour a Vermont brewery or Vermont winery
Visit a Vermont Church, Synagogue or other House of Worship
Take a Bicycling tour or go Mountain Biking
Go House Hunting with a Vermont Realtor
Visit an annual Vermont Event
Take a Walk in Weissner Woods
Visit a Vermont Antique Store or Craft Center
Go Snowshoeing!
Enjoy a weekend Outlet Shopping Spree!
Take a ride in an Airplane to view Vermont's scenery!
Visit a Vermont Farm Stand or Apple Orchard
Visit a Vermont Cheese Producer – take home some Vermont Cheddar!
Go Swimming! Find a Vermont beach
Try Ice Fishing on a Vermont Lake or Pond
Go to movie! Visit a Vermont cinema, movie or drive-in theatre
Go Monster Hunting! – Look for a mysterious serpent named Memphre
Visit a Vermont used bookstore
Visit Dog Mountain
Visit a Vermont alpaca farm
Go on a hike with a Llama – Llama Trekking in Vermont
Visit a Vermont State Park
Go Rock Climbing
Visit a Vermont Amusement Park
>New England Living Magazine

Vermont Products | Visit VT Towns | FWM 24/7 Shopping

Country Weddings | New England Recipes
VT Inns | Red Sox Gifts | Travel Destinations
Free World Mall

Country Weddings | New England Recipes
VT Inns | Red Sox Gifts | Travel Destinations