Vermont Fish and Wildlife Department
VT Fishing & Hunting License Information

Vermont fishing and hunting laws are enforced by the Vermont Fish and Wildlife Department. The Vermont Fish and Wildlife Laws are updated and changed regularly. Free information about hunting, fishing, trapping, and other outdoor sports is available from the state of Vermont. Ask us about VT Wildlife or share comments. To feature your business in VTLiving.com – Vermont's Internet Magazine, contact us.
Vermont Fish and Wildlife Department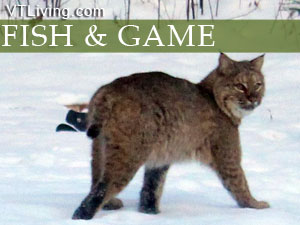 Hunting and Fishing in Vermont usually requires a license. The fees for obtaining a license varies depending on what game you are hunting and whether you are a resident of the state of Vermont or not. Please contact the Vermont Fish and Wildlife Department for information on obtaining a license to hunt or fish in Vermont.
Vermont Living thanks you for obeying these laws. For hunting and fishing information, please call or write:
The Vermont Fish & Wildlife Department
103 South Main Street, Waterbury, VT 05671-0501
Ph: 802-241-3700
Visit our Vermont Fishing section for more information.
Your comments are most appreciated.  If you would like lodging, dining, or any other kind of recommendation, e-mail for a personalized response. Please share your Vermont fishing stories, and/or fishing photographs. For a quick return of your snail mailed photos be sure to include at self-addressed stamped envelope. 

Vermont Products | Visit VT Towns | FWM 24/7 Shopping

Country Weddings | New England Recipes
VT Inns | Red Sox Gifts | Travel Destinations
Fitness and Sports Products On Sale Now
Free World Mall

Country Weddings | New England Recipes
VT Inns | Red Sox Gifts | Travel Destinations