Vermont Fishing Rules & Regulations
Buying a Vermont Fishing License

Welcome to Vermont Living's easy-to-use guide to some of the best fishing holes in Vermont. Discover Vermont fishing for trout, bass, salmon, pickerel, pike, sunfish, eels, and more. The Vermont map below will lead you to Vermont fishing locations by region. Ask us about VT Fishing or share your photos, comments and updates. To feature your Guide Service or Vermont sporting goods business, contact us.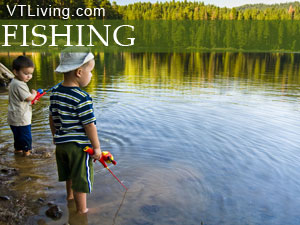 Vermont fishing laws are enforced by the Vermont Fish and Wildlife Department. Vermont Living thanks you for obeying the fishing laws in Vermont. We support the Angler's Code of Ethics from the United States Forest Service.
*fees subject to change, contact a Vermont Fishing and Wildlife Department Agent for the current fees and requirements.
Vermont Fishing Licenses
Vermont Fishing Licenses are available from the Vermont Fish and Wildlife Department and may be purchased at many hardware, sporting goods, and general stores throughout Vermont. Combination hunting and fishing, or just fishing licenses are available. Resident and non-resident licenses are available for various term lengths.
The Ethical Angler:
Supports conservation efforts.
Practices catch and release where needed.
Does not pollute, and properly recycles and disposes of trash.
Practices safe angling and boating.
Obeys fishing and boating regulations.
Respects other angler's rights.
Respects property owners' rights.
Shares fishing knowledge and skills.
Doesn't release bait into waters.
Promotes ethical sport fishing.
The Vermont Fish and Wildlife Department publishes an informative Guide to Vermont Fishing that includes a map of Vermont and suggested lakes and streams, as well as designated charts of species found in each body of water. This guide is free and may be obtained wherever Vermont fishing licenses are sold, or by writing to:
The Vermont Fish & Wildlife Department
103 South Main Street, Waterbury, VT 05671-0501
Phone: 802-241-3700.
Champlain Valley VT Fishing
Burlington, Middlebury, St. Albans, the Islands of NW Vermont
North Central VT Fishing
Montpelier, Barre, Randolph, Waterbury, Stowe, Mad River Valley
Northeast Kingdom VT Fishing
St. Johnsbury, Newport, Barton, Lyndonville, Burke, Jay, Island Pond
South Central VT Fishing
Rutland, White River Jct., Woodstock, Quechee, Brandon, Killington, Ludlow, Weston, Chester
Southern VT Fishing
Bennington, Brattleboro, Manchester, Arlington, Newfane, Mt. Snow area

Vermont Products | Visit VT Towns | FWM 24/7 Shopping

Country Weddings | New England Recipes
VT Inns | Red Sox Gifts | Travel Destinations
Free World Mall

Country Weddings | New England Recipes
VT Inns | Red Sox Gifts | Travel Destinations