Vermont Spring Fishing
Vermont Early Season Fishing Tips for Trout & Salmon

Welcome to Vermont Living's easy-to-use guide to some of the best fishing holes in Vermont. Discover Vermont fishing for trout, bass, salmon, pickerel, pike, sunfish, eels, and more. The Vermont map below will lead you to Vermont fishing locations by region. Ask us about VT Fishing or share your photos, comments and updates. To feature your Guide Service or Vermont sporting goods business, contact us.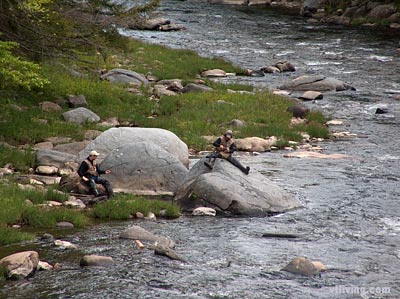 Cleaning out your tackle box and shopping for fishing equipment is an annual tradition here in northern New England. The time of year when the weather fluctuations and temperature changes are signaling the arrival of spring. Spring means fishing!
Early Spring, before the waters warm, is the best time of the year to fish for Lake Trout and Landlocked Salmon. The silvery salmon are quite active and are feeding at or near the surface in early spring.
Warmer Weather Fishing
When the water temperature rises, the colder water-seeking fish like Salmon and Lake Trout go deep. Lake Trout, in particular, enjoy cold water and are often found in the deepest section of the lake. Getting your bait down to them is a challenge. Trolling flys or lures usually requires either a downrigger or lead-core line. Bait fishermen anchor and drop their bait several hundred feet down towards the lake bottom. Patience can pay off with large fish. Both Lakers (Lake Trout) and Salmon are robust fighters and can be 24 – 36 inches in length and weigh more than 10 pounds. Taken on light tackle, they put up quite a struggle. The deep-water seeking Lake Trout will often head down with your bait, while the Salmon is more likely to break the water and attempt to spit out your lure, streamer, or live bait.
VT Fish – Where to Find Them
Landlocked Salmon are only available in a few deep, cold-water New England lakes. Some of the better landlocked salmon lakes include Seymour Lake, Caspian Lake, Averill Lake, Crystal Lake, Lake Memphremagog, Lake Champlain, and Lake Willoughby in Vermont, and First Connecticut Lake, Second Connecticut Lake, Third Connecticut Lake, and Lake Francis in Pittsburg, New Hampshire.
Catching Salmon and Rainbow Trout
The bait of choice depends largely upon the fishing style of who you ask. The favorite food of salmon is smelt, so using streamers like "the Grey Ghost" or "Moose River" is a good choice.
Spinfisherman should try a Rapala minnow or Rebel minnow. Both these lures imitate the action of a real live minnow, or smelt. Metal Spoons also deliver results. Baitcasters prefer the real thing – live smelt, trolled or fished from a stationary boat have landed many a lunker.
Enjoying the Scenery
The water quality of most lakes in northern Vermont and New Hampshire is improving and with that improvement comes an increase in not only fish but associated species like loons, baitfish, and other wildlife. Nesting loons are now being seen for the first time in years at several Vermont and New Hampshire waterways.

Vermont Products | Visit VT Towns | FWM 24/7 Shopping

Country Weddings | New England Recipes
VT Inns | Red Sox Gifts | Travel Destinations
Free World Mall

Country Weddings | New England Recipes
VT Inns | Red Sox Gifts | Travel Destinations