Trolling for Salmon in Vermont
Family Fishing – A Relaxing and Fun Activity

Welcome to Vermont Living's easy-to-use guide to some of the best fishing holes in Vermont. Discover Vermont fishing for trout, bass, salmon, pickerel, pike, sunfish, eels, and more. Ask us about VT Fishing or share your photos, comments and updates. To feature your Guide Service or Vermont sporting goods business, contact us.
Vermont Fishing Lake Trolling for Trout & Salmon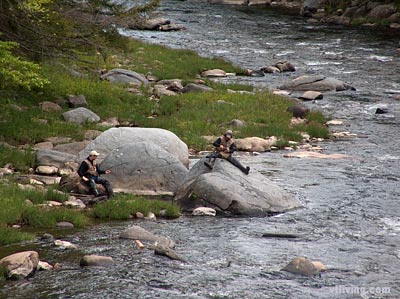 Trailing a line from a slowly moving boat is a very popular and relaxing way to enjoy the outdoors and offers an exciting way to land a fish, especially if using fly rods. The slow paced atmosphere of making passes over your favorite fishing hole, coupled with the fast paced mayhem of pulling in extra lines when a fish is hooked, makes for a great fishing adventure.
Before setting out, read all the local and state laws pertaining to salmon fishing. Choosing a lake can be a challenge because of all the great locations Vermont has to offer. Typically there are a few key things to keep in mind when choosing a location. Salmon often reside in colder, large, deep lakes. Smaller bodies of water typically won't yield a good salmon catch, and trolling over the same area may induce boredom. Large bodies of water offer much easier trolling passes, and lessen the risk of tangled lines caused by frequent and sharp turns. If choosing an unfamiliar lake, bring a map and become acquainted to the shape, depth, and your starting location before heading out. Try to reference landmarks such as unique landforms or structures to keep your bearings.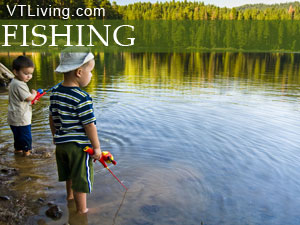 Dress for the occasion! Becoming cold or wet can cut any fishing trip short, making extra layers of clothing and proper apparel very important. Keep in mind that the ice has recently lifted from the waterways, and when the wind picks up it will take with it the chill of the frigid water. Often times setting out early will allow for a few hours of fishing on what seems to be a sheet of glass, but shortly after sunrise, the wind usually rises as well. Waterproof apparel is a plus especially when spray from choppy waters and higher winds come into play. It is a good idea to pack a cooler because trolling can easily become an all day adventure, especially when the fish are biting.
Before hitting the open waters, make sure you have the right tackle. The most effective trolling rods are lightweight fly rods, equipped with sinking line and about 15 to 20 feet of monofilament on the tip, dressed with a streamer. A streamer is a type of fly lure used to imitate a smelt. A smelt is a small fish which can also be baited and used to troll for salmon. Spin cast rods can be substituted and used in conjunction with smelts or smelt imitating lures, but are not as exciting to catch a fish on. Rod holders are a must! Holding the rod while trolling becomes unimportant as it is best to watch the action of the rod, and listen for the distinct sound of a reel being stripped of line when a fish hits. Trolling is a slow, finesse sport meaning a big motor is not needed. The ideal motor would be small, quiet, and environmentally friendly. This will cause fewer vibrations, and makes holding a conversation a lot easier. It is a good idea to have a larger motor for general transportation, in conjunction with a trolling motor for when you reach your fishing destination. Bringing extra fuel or a spare battery and paddles is good boating practice as well.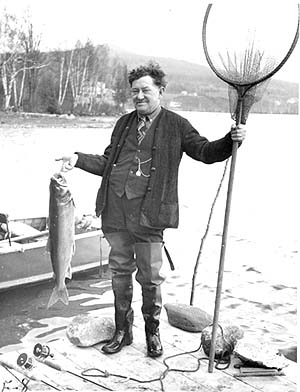 Once you have taken to the water and are ready to begin trolling, first make sure the rod holders are firmly in place and spaced out enough so tangles won't become an issue. As many as 4 lines can be used when trolling (2 in back, 1 left and right) without having to worry too much about tangles. Be conscious of the direction the boat is headed in, and make turns large and deliberate. Before letting line out, make sure the lure is swimming properly. If a streamer spins, it will cause the monofilament to twist and become tangled when you reel up, and will also weaken the line. Let about 50-60 feet of line out in back of the boat, keeping the lines to their respective sides. It is easiest to mark the lines with paint prior to heading out so you know when to stop letting the line out. This will place your choice lure about 3 feet under the surface of the water. Make sure the drag is set so you will hear the reel tick if something strikes the line. Once all the lines are out, sit back and relax, and make long sweeping passes down the waterway. Be careful of shallow waterways which might have weeds and debris. Salmon tend to stick to the deeper sections of the lake.
When a fish bites, stop the boat, have everyone reel in the extra lines, and keep your rod tip high. Salmon are known for jumping, so try and keep the line tight. The best method of pulling in a fish with a fly rod is to use a hand over hand method. The hand on the rod holds the line and controls the drag, and the other hand is used to pull loops of line in and coil them near your feet. Be careful not to tangle or step on the line, and be sure to give the fish extra line if it decides to run. When the fish is ready to be landed, try hard to keep it from striking the boat. The use of a net (long handle and large scoop) makes it easier to avoid breaking the monofilament and losing the fish and lure. It's good to have a ruler and fishing scale handy to make sure the catch is within regulation, and to help with future fishing tales. After the thrill of landing a fish, or even after losing one, check your tackle, get reorganized and reoriented, and start out again.
Typically the phrase "early bird gets the worm" comes into play when fishing for salmon. The best hours to tease a salmon with a line are early in the morning. Don't be discouraged and turn back early if you're not lucky immediately because the fish will bite throughout the day. It is a good habit to use a variety of bait and tackle. Pay attention to the fish. Try something else if the fish aren't biting, and continue using what you can't keep in the water. Streamers ranging from black and white to pink and blue work great so don't be afraid to mix it up.
For other tips and tricks, be sure to visit our safe boating and fishing regulation articles.
~ Erik T. for vtliving.com
The Vermont Fish and Wildlife Department publishes an informative Guide to Vermont Fishing that includes a map of Vermont and suggested lakes and streams, as well as designated charts of species found in each body of water. This guide is free and may be obtained wherever Vermont fishing licenses are sold, or by writing to:
The Vermont Fish & Wildlife Department
103 South Main Street, Waterbury, VT 05671-0501
Phone: 802-241-3700

Vermont Products | Visit VT Towns | FWM 24/7 Shopping

Country Weddings | New England Recipes
VT Inns | Red Sox Gifts | Travel Destinations
Free World Mall

Country Weddings | New England Recipes
VT Inns | Red Sox Gifts | Travel Destinations