Fred Pabst – A Tribute to a Vermont Ski Developer
Blue Ribbon Beer to Ski Pioneer

Fred Pabst. His name and accomplishments stand on the mantle with only a few others whose contributions to the ski industry rivaled his own. The grandson to Captain Frederick Pabst who began the Pabst brewing empire (Pabst Blue Ribbon Beer). Fred was a pioneer in skiing: a ski jumper in the 1920's, Fred started ski clubs throughout the Midwest, invented the modern J-bar lift, and at one time in the early 40's operated as many as 17 separate ski areas from Wisconsin and Quebec to New Hampshire and Vermont. Eventually he consolidated his resources at Bromley Mountain near Manchester, Vermont, establishing that area as one of Vermont's early giants of skiing. Ask us about VT history or share comments. To feature your business, contact us.
Vermont Ski History: Fred Pabst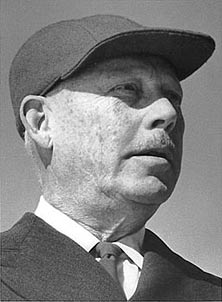 A scion of the famed Milwaukee beer family, Fred's childhood was a privileged, and adventurous, one. From a young age, Fred delighted in skiing–first by being towed behind a horse and sleigh, a sport which came to be known as skijioring, and then as a jumper in college at the University of Wisconsin. After college and graduate school at Harvard, Fred began a ten-year commitment to the family business, but still made time for skiing, even traveling to Europe in 1926 to ski with the father of modern skiing, Hannes Schneider, and King Olaf of Norway.
In 1933, Fred left the family business for good to, as Mark Twain once said, "light out for the territory", and like everything else in his life (he was 6'4" after all) he did it in a big way. For the next two years Fred spent much of his time traveling, skiing and big game hunting throughout the western United States and Canada, always searching for areas where he could grow the sport he loved. Ultimately he determined the best region to launch his skiing enterprise would be the Northeast-primarily because more people lived here than in the West. In 1936 he built the first modern J-bar and placed it on St. Sauveur, Quebec, and moved to Manchester, Vermont to headquarter his Ski Tows, Inc. operation which quickly grew to include 17 areas in six states and Quebec. For several years he collected revenues from these areas (New Hampshire areas included Intervale and Plymouth; Vermont had Aeolus and Bromley), but with the entry of the U.S. in World War Two he decided to centralize his assets and began pulling his J-bars and tows from other areas to install at Bromley.
Pabst decided on this southern Vermont mountain for several key reasons, not least of which were accessibility and community. On a fairly well-traveled route just a few miles from the vibrant village of Manchester (the town had built a very popular winter sports club), Bromley became immediately popular due to its sunny, southern exposure as well. Throughout the '40's and '50's Bromley became a skiing mecca with seven lifts, short liftlines, and a wide diversity of trails bearing names like Blue Ribbon and Pabst Peril. Always ahead of the curve in all facets of the ski industry, Pabst was a pioneer in advanced trail grooming, childcare, and slopeside accommodations, and in the late'60's embarked on the industry's first million-dollar snowmaking campaign.
For over forty years Fred Pabst shared his love of skiing with everyone around him, and in 1969 was awarded a prestigious place in the U.S. National Ski Hall of Fame. Although he died in 1977, Fred was able to see Bromley achieve another pioneering milestone with the advent of the first Alpine Slide in North America in 1976. Today this summer sledding activity is the main attraction at Bromley's Mountain Thrill Zone and–in keeping with the Pabst tradition–is the largest of its kind anywhere in the United States.
~ James Gage for vtliving.com
Find out more about Bromley Mountain Ski Area
inns | hotels | resorts | rentals | attractions | dining | real estate

Vermont Products | Visit VT Towns | FWM 24/7 Shopping

Country Weddings | New England Recipes
VT Inns | Red Sox Gifts | Travel Destinations
Free World Mall

Country Weddings | New England Recipes
VT Inns | Red Sox Gifts | Travel Destinations