Vermont Green Dining
Green Hotels VT Green Inn Restaurants Vermont Green Eco-Friendly Initiative

Welcome to Vermont Living Magazine's Vermont Green Lodging Guide. We are proud of the efforts that many Vermont lodging properties are making to help save and protect the environment. This section will be updated regularly to present current news about Vermont Green Business Practices including; Vermont Green Hotels, Green Inns and other Vermont eco-friendly and environmentally conscious businesses. Ask us about VT Green Dining or share comments. To feature your Vermont business, contact us.
Vermont Green Business – VT Cafes, Pubs & Restaurants
 Going Green in the Green Mountain State
Green is more than the color of money. The new green is earth-friendly , eco-conscious and signifies that you care about the envirornment. Green businesses care about the planet (Mother Earth) and are taking pro-active measures. You – as a Vermonter or a visitor to Vermont – can do your part by seeking out eco-friendly businesses and Vermont green lodging accommodations.
 What is Vermont Green Dining?
The basic premise is that Green Hotels, Inns and Restaurants are taking action to help save energy and minimize their carbon footprint on Mother Earth. The most direct route to achieving this is by either growing their own produce or buying local, organic foods from area farms. Not only does this help to support the local economy, it also guarantees the freshest, highest quality produce for restaurants and their patrons. By steering clear of mass-produced or packaged foods, Vermont restaurants and inns are able to offer delicious, tasty meals.
Not only are the meals at Waterford's Rabbit Hill Inn delicious and award-winning, the menus are seasonal and showcase the best local ingredients available at the moment. Their chef practices 'farm-to-table' with each meal. Ingredients include local baby lettuce varieties, grilled native vegetables, and fresh Maine halibut & day boat scallops. Not only are the produce and vegetables sourced locally, all of the meats are Vermont-raised as well.
Combining locally-sourced ingredients with those from around the world, The Hermitage Inn in West Dover strives to provide a true culinary experience. Breakfast includes locally grown eggs, organic espresso and local ciders, and the dinner menu features seasonal, local fare. The Hermitage is incredibly active in their green initiative and have state-of-the-art solar array panels on-site, as well as thermo-insulated windows and energy-star lighting.
Yet another 'farm-to-table' restaurant in West Dover can be found at the Wilmington Inn. Most everything from the artisan breads and pastas to the pates and desserts are made in-house. A superb value.
---
If you have a suggestion on how a lodging property or dining establishment can save energy, please share it. If your lodging property would like to be included on this page about Vermont Green Friendly Dining, please contact us.
Vermont Living thanks you for supporting Vermont's Green Hotels, Inns and other Green Businesses. If you have questions about an individual property's Green Lodging programs, contact the inn or hotel directly and inquire in advance of your stay. Many hoteliers and innkeepers are proud of their efforts to help save the environment and are happy to discuss their efforts with you.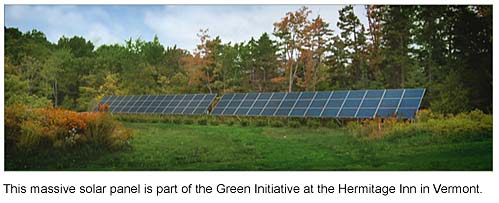 Vermont Products | Visit VT Towns | FWM 24/7 Shopping

Country Weddings | New England Recipes
VT Inns | Red Sox Gifts | Travel Destinations
Free World Mall

Country Weddings | New England Recipes
VT Inns | Red Sox Gifts | Travel Destinations