North Central Vermont Hikes

Hike Mt. Mansfield in Stowe! If your outdoor interests are piqued by the prospect of hiking a diverse trail system over varied terrain, encountering panoramic vistas, breathing fresh mountain air, splashing in brisk alpine streams, and resting in forests abundant with wildlife, then you have found your outdoor paradise in the mountains and woodlands of North Central Vermont. The Stowe, Mad River Valley region is a wonderful place to hike and explore. Please share your Vermont hikes and comments. To feature your VT business, contact us. Safe and happy hiking from Vermont Living Magazine.
Stowe Mad River VT Hikes & Trails


Smugglers' Notch Vermont, America's Family Resort, 4323 VT Rt.108, Jeffersonville, VT | 802-332-6854
SMUGGLERS' NOTCH RESORT. At America's Family Resort, experience Mountain Resort Village living, award-winning children's programs, family activities, 3 big mountains of skiing and snowboarding, plus entertainment, dining, shopping, year-round Zipline Canopy Tours & more. Family Fun Guaranteed. Smuggs offers four season Vermont family vacation experiences unlike any other!
Visit Smugglers' Notch Resort - Jeffersonville, VT
---


The Governor's House in Hyde Park, 100 Main Street, Hyde Park, VT 05655 | 866-800-6888
Centerpiece of a quiet village, the completely restored historic mansion offers modern comfort with the gracious elegance of an earlier time. Period furnishings. Bedroom fireplaces. Mountain views. Jane Austen weekends. Afternoon tea. Small private events and weddings. The perfect elopement package.
Visit Governor's House at Hyde Park
---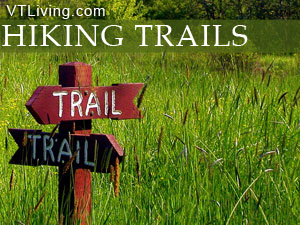 The Long Trail (Mount Mansfield) – Stowe, Vermont
Total Distance:  4.7 Miles
Hiking Time:  6.5 Hours
Vertical Rise:   2995 ft.
Rating:  Difficult
In the Mount Mansfield State Forest
From Stowe, follow Route 108, 8.5 miles North to the Long Trail parking area just before the picnic area.   Hike South from the parking area to the information board at the trailhead.  The trail ascends steeply at first, but soon eases through the forest with steps built by the Green Mountain Club.  The trail continues to ascend quite steeply, with a very steep ascent just before reaching the Taft Lodge at the 1.7 mile mark.  Continue up the trail to the 2.0 mile mark and the junction at Eagle Pass.  Continue South 0.3 mile and ascend the steep face of the Chin to the panoramic summit of Mount Mansfield, 4393′ above sea level.  Your return hike follows the same trails back to the parking area.
---
Prospect Rock Trail (On Long Trail) – Johnson, Vermont
Total Distance:  2 Miles
Hiking Time:  1.5 Hours
Vertical Rise:  520 ft.
Rating:  Easy
In the Long Trail State Forest
From Johnson, follow Route 15, 1.5 miles to a right turn onto Hogback Rd. just before the Lamoille River bridge, and follow to the Ithiel Falls parking area at top of the hill.  From parking area, follow the paved road to Ithiel Falls Camp where you turn right and follow the white-blazed Long Trail to the Prospect Rock Trail sign.  The trail soon enters the forest with easy to moderate ascents crossing small brooks and along an old logging road.  Soon after, the trail becomes quite steep but again levels off before gently ascending to the 0.8 mile mark where it makes a sharp right.  Here the ascent is briefly steep before opening onto a more level area at Prospect Rock.  Your return hike follows the same trails back to the parking area.
---
Stowe Pinnacle Trail (Hogback Mountain) – Stowe, Vermont
Total Distance:  2.8 Miles
Hiking Time:  2 Hours
Vertical Rise:  1520 Feet
Rating:  Moderate
In the CC Putnam State Forest
From Route 100 in Stowe Village turn East onto School Street, bearing right at the fork with Stowe Hollow Road to an intersection at 1.8 miles where you go straight on Upper Hollow Road crossing a brook and bearing right past Pinnacle Road to 2.5 miles and the State parking area on the East side of the road.  The blue-blazed trail is at the back of the parking area and crosses a field and becoming rocky as it ascends, getting gradually steeper to a right turn onto a plateau.  At 0.8 mile the trail swings left over rocks to a spur trail overlook, then continues on up a rockier incline to the Pinnacle at 1.4 miles.  Your return hike follows the same trail back to the parking area.
---
Stowe Recreation Path (Stowe Village) – Stowe, Vermont
Total Distance:  5.3 Miles
Hiking Time:  At Your Leisure
Vertical Rise:  Fairly Level
Rating:  Easy
Bordered by Mt. Mansfield & CC Putnam State Forests
This in-town hiking venue extends 5.3 miles in and around historic Stowe Village, offering spectacular views of the Green Mountain scenery and safe, year-round pedestrian access to Stowe Village shops and outdoor events.  Click here for more information about the award-winning Stowe Recreation Path.
---
Waterbury Trail (Mount Hunger) – Waterbury Center, Vermont
Total Distance:  4.0 Miles
Hiking Time:  4.0 Hours
Vertical Rise:   2330 ft.
Rating:  Moderately Strenuous
In the CC Putnam State Forest
From Route 100 turn East onto the road to Waterbury Center and follow for 0.3 mile turning left onto Maple Street.  Follow 0.4 mile turning right just past the fire station onto Loomis Hill Rd., which turns to dirt at 2.3 miles.  Follow to top of hill, bear left and continue until you reach parking area on your right at 3.8 miles, where a posted sign marks the trailhead.  Leave the parking area and follow the blue-blazes as the trail enters the woods.  The trail begins with boulders, a gully, and numerous rock outcrops, leveling off at 0.5 mile before ascending a moderate slope.  A large white birch marks your right turn across a cool valley floor to continue uphill on the old trail at 1.0 mile mark.  The trail becomes steeper before the junction of White Rock Trail at 1.8 miles, then ascends over rocks to the South summit with spectacular views.  (Be sure to avoid the blue-blazed trials that descend to the North and the opposite side of the ridge.)  Your return hike follows the same trials back to the parking area.
inns | hotels | resorts | rentals | attractions | dining | real estate
Champlain Valley VT Hikes & Trails
Burlington, Middlebury, St. Albans, the Islands of NW Vermont
North Central VT Hikes & Trails
Montpelier, Barre, Randolph, Waterbury, Stowe, Mad River Valley
Northeast Kingdom VT Hikes & Trails
St. Johnsbury, Newport, Barton, Lyndonville, Burke, Jay, Island Pond
South Central VT Hikes & Trails
Rutland, White River Jct., Woodstock, Quechee, Brandon, Killington, Ludlow, Weston, Chester
Southern VT Hikes & Trails
Bennington, Brattleboro, Manchester, Arlington, Newfane, Mt. Snow area

Vermont Products | Visit VT Towns | FWM 24/7 Shopping

Country Weddings | New England Recipes
VT Inns | Red Sox Gifts | Travel Destinations
New England Living Magazine
Free World Mall

Country Weddings | New England Recipes
VT Inns | Red Sox Gifts | Travel Destinations