Vermont Hiking Tips & Hints
Select Vermont Hikes & Casual Woodland Walks

If it's variety of trails and terrain, breathtaking vistas, clean air and pure mountain forests you're interested in, then exploring Vermont offers a myriad of outdoor adventures and the hiking here is exceptional. Hiking and backpacking the Green Mountains is a life-long tradition for many, and has been for centuries. Vermont offers short and simple strolls in the woods to long and challenging hiking trails deep into the mountains and forests of this sparsely populated state. The Long Trail, which follows the Green Mountain range from the Canadian border to the Massachusetts state line is famous in hiking circles worldwide. There are more than 70 cabins, shelters and tenting areas along this trail system which winds through some of Northern New England's most beautiful wilderness areas. Ask us about VT Hikes or share your Vermont hikes and comments. To feature your VT business, contact us. Safe and happy hiking from Vermont Living Magazine.
Vermont Hiking Tips & Trails


Smugglers' Notch Vermont, America's Family Resort, 4323 VT Rt.108, Jeffersonville, VT | 802-332-6854
SMUGGLERS' NOTCH RESORT. At America's Family Resort, experience Mountain Resort Village living, award-winning children's programs, family activities, 3 big mountains of skiing and snowboarding, plus entertainment, dining, shopping, year-round Zipline Canopy Tours & more. Family Fun Guaranteed. Smuggs offers four season Vermont family vacation experiences unlike any other!
Visit Smugglers' Notch Resort - Jeffersonville, VT
---


The Governor's House in Hyde Park, 100 Main Street, Hyde Park, VT 05655 | 866-800-6888
Centerpiece of a quiet village, the completely restored historic mansion offers modern comfort with the gracious elegance of an earlier time. Period furnishings. Bedroom fireplaces. Mountain views. Jane Austen weekends. Afternoon tea. Small private events and weddings. The perfect elopement package.
Visit Governor's House at Hyde Park
---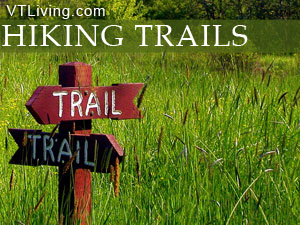 Clothing & Hiking Comfort
It's cold and chilly in the Vermont woods, especially on the top of a Vermont mountain, where many of the fine trails traverse. The temperatures often tip to below freezing, even in the summer months in this rugged countryside. Hikers rule is be prepared, the warm sunny days can quickly turn to bone-chilling nights. Be sure to bring warm clothing into the woods even in the summer months.
Vermont Bugs The Infamous Black Flies and Knats
You've never heard of a black fly? Well, there are more than one Vermonter who'll tell you they wish they had never heard of 'em either! These nasty creatures are abundant in late Spring and early Summer. The black fly, knat and mosquito are the worst of Vermont's pesky insects that prey on fresh hikers (and more). Bring bug repellent, and plenty of it for everyone.
Eating On The Trail / Wilderness Cooking
Hiking the mountains of Vermont burns plenty of calories. Scrap the junk food and load up on high protein foods like; raisins, nuts, chocolate, granola bars and fruits. Bring a light weight stove and cook dehydrated soups or other light weight foods. Most Vermont streams and springs provide good drinking water but be sure to bring a water bottle or canteen.
Footwear & All-Weather Clothing
It's best to anticipate the worst. The real Vermonters know if it's one thing you CAN'T trust, it's the weather. The Vermont weather is very unpredictable. Visit our Vermont hiking section for directions to Vermont hiking trails and woodland paths.
Champlain Valley VT Hikes & Trails
Burlington, Middlebury, St. Albans, the Islands of NW Vermont
North Central VT Hikes & Trails
Montpelier, Barre, Randolph, Waterbury, Stowe, Mad River Valley
Northeast Kingdom VT Hikes & Trails
St. Johnsbury, Newport, Barton, Lyndonville, Burke, Jay, Island Pond
South Central VT Hikes & Trails
Rutland, White River Jct., Woodstock, Quechee, Brandon, Killington, Ludlow, Weston, Chester
Southern VT Hikes & Trails
Bennington, Brattleboro, Manchester, Arlington, Newfane, Mt. Snow area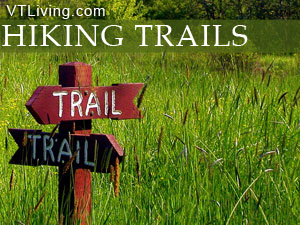 Hiking and backpacking in the Green Mountains of Vermont has always been a popular outdoor activity for natives and visitors of all ages. Vermont offers a wide variety of trails – from short, relaxing woodland strolls and moderate hikes, to the extensive and challenging mountain trails that extend deep into the sparsely populated Green Mountain National Forest and adjoin the Appalachian National Scenic Trail.
The Long Trail, which follows the Green Mountain Range from the Canadian border to the Massachusetts state line, is world-renowned and offers more than 70 cabins, shelters, and tenting areas along a trail system traversing some of Northern New England's most spectacular wilderness areas.

Vermont Products | Visit VT Towns | FWM 24/7 Shopping

Country Weddings | New England Recipes
VT Inns | Red Sox Gifts | Travel Destinations
New England Living Magazine
Fitness and Sports Products On Sale Now
Free World Mall

Country Weddings | New England Recipes
VT Inns | Red Sox Gifts | Travel Destinations