Vermont Historical Societies
State of Vermont – Historical Societies

Vermont's historical societies preserve the Green Mountain State's rich past so that people will be able to enjoy it not only today but for years to come. VT Historical Society Chapters preserve and display the history of Vermont and the history of their individual towns and cities as well. Many of Vermont's historical societies have museums with artifacts. Vermont Historic societies are also frequently responsible for the upkeep of historic buildings and landmarks. Ask us about VT Museums or share your Vermont museum comments. To feature your business in Vermont Living, contact us.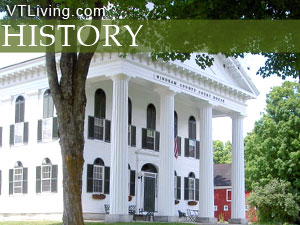 Henry Sheldon Museum of Vermont History
1 Park Street
Middlebury, VT 05753
Ph: 802-388-2117
The museum offers tours, exhibits and programs aimed at facilitating an understanding of regional Vermont history through sharing with the community a wealth of objects and written materials which document the history of Middlebury, Addison County, and Vermont.It also has a gallery, a shop and gardens.
Hours and Admission: Admission fee. Museum: Monday through Saturday, 10 am to 5 pm. Late fall/winter closed on Mondays.
Research Center: Tuesday, Wednesday, Friday, 1 pm to 5 pm, Thursday
Chittenden County Historical Society
Burlington, VT
Mailing Address: 
PO Box 1576
Burlington, VT 05402
Ph: 802-862-4125 or 802-863-5155
The society is dedicated to encouraging original research and study of our local history in Chittenden County. We also aid in the publishing and distribution of important historical articles, reports, monographs, and books resulting from such studies. We encourage and help in the work of searching and discovering, and cataloging historical materials that will establish and illustrate the development of Chittenden County, its exploration, settlement and activities; its progress in population, wealth, education, arts, science, agriculture, manufactures, trade, and transportation. We have a quarterly publication: the Bulletin and programs throughout the year.
Hours and Admission: By appointment. 
Stowe Historical Society
Town Hall
Akeley Memorial Building
Main Street, Stowe, VT
Mailing Address: 
PO Box 730
Stowe, VT 05672
Ph: 802-253-8428 or 802-253-6360
The Stowe History Room is located in the Akeley Memorial Building, which is the town hall. The society has also restored the one-room Bloody Brook schoolhouse that is located next to the Helen Day Art Center. Collections are of 19th-century decorative arts, clothing, small household furnishings, tools, photographs, and military memorabilia. The schoolhouse contains books and school-related items.
Hours and Admission: Tuesday and Friday 10:00am – 12:30 pm; most Saturdays, 1:00 pm – 4:00 pm or By appointment. Free. Handicapped accessible through rear door
Montpelier Historical Society
Montpelier, VT
Mailing Address: 
P.O. Box 54
Montpelier, VT 05601
Ph: 802-223-5093 or 802-223-3097
The Society does not have a museum, but does show its artifacts at occasions in the City Hall first floor lobby, at election days outside the polling areas, and as opportunities arise in local store windows. Presently the Society is restoring the miniature statehouse that was located at the Toy Town Cabins on Lower State Street. Partnering with Food Works' Two Rivers Center Project behind the Cabot Cheese Offices on Route 2E, we will have a few rooms at the Thomas Davis Homestead once it is restored. A variety of Montpelier artifacts are stored locally.
Hours and Admission:By appointment
Hardwick Historical Society
Hardwick Depot
47 Depot Street (off Church Street behind Town House)
Hardwick, VT
Mailing Address: 
PO Box 494
Hardwick, VT 05843
Ph: 802-472-8555
The restored Hardwick Depot, home to the Hardwick Historical Society, houses artifacts of Hardwick's past. Items relating to the Granite Industry, railroad, Hardwick Academy, and the Civil War are displayed. 
Hours and Admission: June – September, Tuesday – Thursday 1-4 or by appointment. 
Rutland Historical Society
Nickwackett Firehouse
96 Center Street
Rutland, VT
Mailing Address: 
96 Center Street
Rutland, VT 05701
Ph: 802-775-2006 or 802-775-7525 or 802-776-1018
The society is located in the former Nickwackett Firehouse, built in 1860. Collections focus on the history of Rutland, Proctor, West Rutland, and City of Rutland and include costumes, manuscripts, documents, books, and photographs. 
Hours and Admission: Monday, 6:00 pm – 9:00 pm; Saturday, 1:00 pm – 4:00 pm and By appointment. Free. Displays are accessible to the disabled. 
Manchester Historical Society
Mark Skinner Library
48 West Road
Manchester, VT
Mailing Address: 
P.O. Box 363
Manchester, VT 05254
Ph: 802-375-2733
This small museum in the Mark Skinner Library contains an eclectic collection of local artifacts and photographs relating to local history and genealogy. There are monthly meetings with speakers on a variety of local historical subjects. The Society celebrated its 100th anniversary in 1997.
Hours and Admission: Thursdays, 1:00 pm – 3:00 pm and By appointment. 

Vermont Division for Historic Preservation
135 State Street, Drawer 33
Montpelier, VT 05633-1201
Ph: 802-828-3051

Vermont Products | Visit VT Towns | FWM 24/7 Shopping

Country Weddings | New England Recipes
VT Inns | Red Sox Gifts | Travel Destinations
Champlain Valley VT Museums
Burlington, Middlebury, St. Albans, the Islands of NW Vermont
North Central VT Museums
Montpelier, Barre, Randolph, Waterbury, Stowe, Mad River Valley
Northeast Kingdom VT Museums
St. Johnsbury, Newport, Barton, Lyndonville, Burke, Jay, Island Pond
South Central VT Museums
Rutland, White River Jct., Woodstock, Quechee, Brandon, Killington, Ludlow, Weston, Chester
Southern VT Museums
Bennington, Brattleboro, Manchester, Arlington, Newfane, Mt. Snow area

Vermont Products | Visit VT Towns | FWM 24/7 Shopping

Country Weddings | New England Recipes
VT Inns | Red Sox Gifts | Travel Destinations
Free World Mall

Country Weddings | New England Recipes
VT Inns | Red Sox Gifts | Travel Destinations