Bennington Battle Monument
Vermont Historical Landmarks

Completed in 1891, the Bennington Battle Monument stands 306 feet, 4 1/2 inches tall. The cornerstone was laid in 1887 and it was constructed of Sandy Hill Dolomite from present day Hudson Falls, NY. From the observatory level, reached by elevator, one can see Vermont, New York, and Massachusetts. The monolith is the tallest structure in the State of Vermont. Ask us about Vermont historic sites or share your Vermont historical information and comments. To feature your business, contact us.
Bennington Battle Monument – State of Vermont Historic Site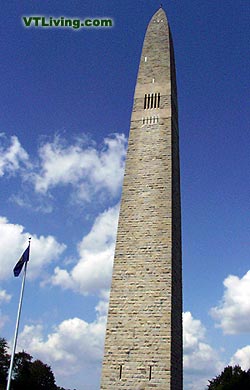 The monument was built to commemorate the Revolutionary War Battle of Bennington. It was here in 1777 that General John Stark successfully defeated two detachments of General Burgoyne's invading British army.
As a result of engagements at Fort Ticonderoga and Hubbardton, the British were in desperate need of supplies. With reports of the arsenal depot stored at the present day Monument site, Burgoyne's unit headed for Bennington. General Stark, with the aid of Seth Warner and the Green Mountain Boys, successfully sent the British fleeing. It is said that Stark's defense and capture of British supplies led to Burgoyne's surrender at Stillwater after the Battle of Saratoga.
Directions:
From Route 7, follow signs through Bennington to the Monument located on Monument Circle at the top of Monument Avenue.
Bennington Battle Monument, Bennington, VT. Tel. 802-447-0550 for more information. For more Bennington information visit our Bennington town page.
The visitor's center is open mid-April through October 31st daily: 9:00 am – 5:00 pm. A small admission fee is charged.
inns | hotels | resorts | rentals | attractions | dining | real estate
For more Information on State-owned Historic Sites write to:
Vermont Division for Historic Preservation
135 State Street, Drawer 33
Montpelier, VT 05633-1201
Ph: 802-828-3051
Visit A Vermont city or town 
Local Historical Societies often have a lot of information especially about that particular region.
Find out what movies were Filmed in Vermont

Vermont Products | Visit VT Towns | FWM 24/7 Shopping

Country Weddings | New England Recipes
VT Inns | Red Sox Gifts | Travel Destinations
Free World Mall

Country Weddings | New England Recipes
VT Inns | Red Sox Gifts | Travel Destinations