Chimney Point State Historic Site
Vermont Historical Landmarks

Vermont is full of history. It was inhabited by two major Native American tribes for centuries before the Europeans came along. With the exception of the Thirteen Colonies, Vermont is one of only four US States to have at one time been independent. Ask us about Vermont historic sites or share your Vermont historical information and comments. To feature your business, contact us.
Chimney Point State of Vermont Historic Site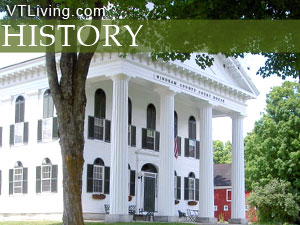 The Chimney Point Museum chronicles the settlement of Lake Champlain's shore from the Native Americans to French colonists. Nearly 7,500 years ago, Native Americans came to the surrounding areas to hunt and fish, and built their campsites
The French established a small fort at Chimney Point in 1731 to protect their interests in the valley, until Fort de Pieux was built across the lake (at present day Crown Point). The government of New France encouraged settlement and in 1743, the settlement of Hocquart was established. At the end of the Seven Years War, the British drove the French north into Canada. All that remained on the point of the land were their chimneys, hence the name Chimney Point.
Directions:
To reach the museum, take Route 22A North or South to Route 17 West. Then take the left turn immediately before the Lake Champlain Bridge.
Chimney Point State Historic Site, Chimney Point, VT Tel. 802-759-2412. 
The museum is open Wednesday through Sunday: 9:30am-5:30pm, Memorial Day (end of May) to Columbus Day (mid-October).

Recommended lodging in the area of the Chimney Point State Historic Site: inns, hotels, or resorts.
inns | hotels | resorts | rentals | attractions | dining | real estate
For more Information on State-owned Historic Sites write to:
Vermont Division for Historic Preservation
135 State Street, Drawer 33
Montpelier, VT 05633-1201
Ph: 802-828-3051
Visit A Vermont city or town 
Local Historical Societies often have a lot of information especially about that particular region.
Find out what movies were Filmed in Vermont

Vermont Products | Visit VT Towns | FWM 24/7 Shopping

Country Weddings | New England Recipes
VT Inns | Red Sox Gifts | Travel Destinations
Free World Mall

Country Weddings | New England Recipes
VT Inns | Red Sox Gifts | Travel Destinations