Hubbardton Battlefield
Vermont American Revolutionary War Battle Landmark

Vermont is full of history. It was inhabited by two major Native American tribes for centuries before the Europeans came along. With the exception of the Thirteen Colonies, Vermont is one of only four US States to have at one time been a sivereign state, and it is the leading producer of maple syrup in America. Ask us about Vermont or share comments. To feature your business, contact us.
VT History: Hubbardton Battlefield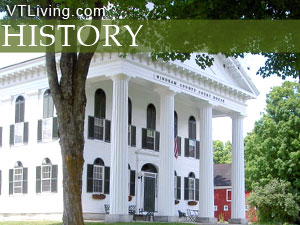 In July of 1777, the American forces were retreating from the Battle at Fort Ticonderoga. Exhausted from the 23-mile march, they stopped to rest in Hubbardton, but British regiments were following them along the crude military road. The next morning of July 7th, 1777, the British came upon them and a battle ensued. From the British standpoint, it was a victory, because they held the ground when the battle was over. But two-thirds of the American forces made it south to fight in the Battle of Bennington that August. Approximately 240 American soldiers were taken prisoner and another 100 lost their lives. 
A historic site worth visiting, the Hubbardton Battlefield Monument is a side trip worth adding to your Vermont vacation itinerary. A detailed diorama of the battle in the visitor's center brings life to the landscape. A path across the field will lead you to benches on the ridge above the valley where the military road came through. To the east, there are dramatic views of the Green Mountains and to your west, you will see the Taconic Mountains of New York.
Directions: 
From Route 4 East or West: Take Exit 5 and go north on Monument Hill Road approximately 7 miles. The Battlefield will be on your left.
From Route 30 South: Take left turn after Hubbardton Gulf. Follow approximately 5 miles, Battlefield will be on your right. Both routes are well marked and easy to follow.
Hubbardton Battlefield, East Hubbardton, VT Tel. 802-273-2282. 
The visitor's center is open Monday through Friday: 9:30-5:30pm.
They close for the season on Columbus Day (mid-October) and re-open every year on Memorial Day (end of May). 

Recommended lodging in the area of the Hubbardton Battlefield follow the links for: inns, hotels, or resorts.
inns | hotels | resorts | rentals | dining | real estate
For more Information on State-owned Historic Sites write to:
Vermont Division for Historic Preservation
135 State Street, Drawer 33
Montpelier, VT 05633-1201
Ph: 802-828-3051
Visit A Vermont city or town 
Local Historical Societies often have a lot of information especially about that particular region.
Find out what movies were Filmed in Vermont

Vermont Products | Visit VT Towns | FWM 24/7 Shopping

Country Weddings | New England Recipes
VT Inns | Red Sox Gifts | Travel Destinations
Explore the Best of New England in New England Living Magazine
Free World Mall

Country Weddings | New England Recipes
VT Inns | Red Sox Gifts | Travel Destinations