Joseph Smith Memorial
Vermont Historical Landmark


The founder of The Church of Jesus Christ of Latter-day Saints, was born in Vermont and every year this site attracts thousands of visitors. Ask us about Vermont historic sites or share your Vermont historical information and comments. To feature your business, contact us.
Joseph Smith Birthplace – Vermont Historic Site
The polished granite shaft (shown above) marks his birthplace. The accomplishments of this extraordinary man are presented in two buildings located on the memorial grounds. View paintings, sculpture, exhibits, and films. A picnic area and views of the Northern New England countryside offer an opportunity of relax and contemplate Mormon life. Guided tours are free.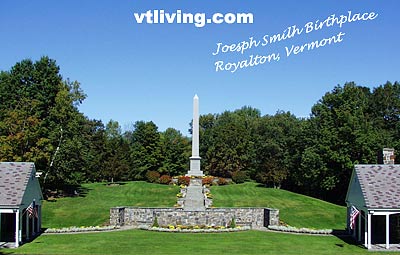 Joesph Smith Memorial
Dairy Hill Road
South Royalton, Vermont
Ph: 802-763-7742
inns | hotels | resorts | rentals | dining | real estate
For more Information on State-owned Historic Sites write to:
Vermont Division for Historic Preservation
135 State Street, Drawer 33
Montpelier, VT 05633-1201
Ph: 802-828-3051
Visit A Vermont city or town 
Local Historical Societies often have a lot of information especially about that particular region.
Find out what movies were Filmed in Vermont

Vermont Products | Visit VT Towns | FWM 24/7 Shopping

Country Weddings | New England Recipes
VT Inns | Red Sox Gifts | Travel Destinations
Explore the Best of New England in New England Living Magazine
Free World Mall

Country Weddings | New England Recipes
VT Inns | Red Sox Gifts | Travel Destinations