MT Independence Historic Site
Vermont Historical Landmark

Along the shore of Lake Champlain lies the most important Revolutionary War site in Vermont. On the top of the rugged rise of Mount Independence, American troops built a fort to guard against British attack from Canada. Under General Phillip Schuyler, troops began clearing land at Mount Independence in June of 1776. By that fall, the fort had begun to take shape. So impressive was the construction that in October of 1776, British General Guy Carleton abandoned his invasion attempt, retreating back to Canada. Ask us about Vermont historic sites or share your Vermont historical information and comments. To feature your business, contact us.
Mount Independence – State of Vermont Historic Site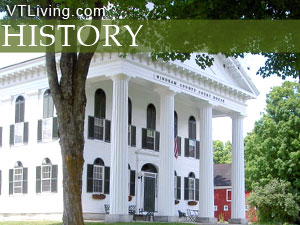 During the winter of 1776, many American troops went home, thinning the ranks from 12,000 to 2,500. Those who remained were very sick and many froze to death. In the spring of 1777, more troops arrived, but not enough. They evacuated the site on July 5th when the British overwhelmed the area. They pursued to Hubbardton, and then moved on to the Battle of Bennington.
Mount Independence has been called the most interesting historic site in Vermont. There are several hiking trails that will allow you to explore the remains of a once bustling military complex. The Visitor's Center offers exhibits featuring artifacts recovered from the site. Special events throughout the season make the experience even more enjoyable.
Directions:
From Route 22A North or South: Take Route 73 West from Orwell. Take your first left hand turn, at the fork bear right. At the next fork, take a sharp left towards a small marina. Parking will be on your left.
Mount Independence Historic Site, VT Tel. 802-759-2412.
The Visitor's Center is open daily from 9:30 to 5:30pm. The site closes for the season on Columbus Day (mid-October) and re-opens on Memorial Day (late May). 
Recommended lodging in the area of the Mount Independence Historic Site: inns, hotels, or resorts.
inns | hotels | resorts | rentals | attractions | dining | real estate
For more Information on State-owned Historic Sites write to:
Vermont Division for Historic Preservation
135 State Street, Drawer 33
Montpelier, VT 05633-1201
Ph: 802-828-3051
Visit A Vermont city or town 
Local Historical Societies often have a lot of information especially about that particular region.
Find out what movies were Filmed in Vermont

Vermont Products | Visit VT Towns | FWM 24/7 Shopping

Country Weddings | New England Recipes
VT Inns | Red Sox Gifts | Travel Destinations
Free World Mall

Country Weddings | New England Recipes
VT Inns | Red Sox Gifts | Travel Destinations