Historic Inns of Stowe, Vermont
Stowe Vermont History

Stowe, Vermont was chartered as a town in 1763, and by the mid-1800's, Stowe had developed into a famous summer resort due to its spectacular mountain scenery. Skiing expanded steadily over the years, and today Stowe offers guests an outstanding variety of year round recreational activities, attractions and special events. History abounds in Stowe – home to many country inns that once flourished as guest houses for early travelers. From quaint, 5 bedroom farm houses, to sprawling estates, these fine establishments offer the unparalleled New England charm and character that vacationers have come to expect when traveling throughout Vermont. Ask us about historic Stowe Vermont Inns or share comments. To feature your VT business, contact us. Safe and happy hiking from Vermont Living Magazine.
Historic Stowe Vermont Inns


The Green Mountain Inn, 18 Main St., P.O. Box 60, Stowe, VT 05672 | 800-253-7302
Experience warm hospitality in an historic landmark in the heart of Stowe Village. Beautifully restored, the Inn offers the perfect blend of modern luxury and country elegance in over 100 rooms, fireplace suites, luxury rooms, exquisite village apartments and townhouses. Two superb restaurants, afternoon tea, year-round outdoor heated swimming pool, outdoor Jacuzzi, children's pool, two firepits and fully equipped health club. Classic setting for weddings, conferences and events.
Visit Green Mountain Inn, Stowe, VT
---
Green Mountain Inn – A Stowe Landmark
Located in the center of town, the Green Mountain Inn is the focal point of historic Stowe Village. Built as a private dwelling in 1833, the Green Mountain Inn is listed on the National Register of Historic Places, along with the adjacent Depot Building which was built in 1893 to house the Mt. Mansfield Electric Railroad. In 1850, the Inn's owner added two brick wings, a dance hall, and the double front porch to the original building. In 1983 a massive restoration project was completed to honor the 150th birthday of the building. While retaining the Inn's original charm and history, many modern features were added during the restoration, including a swimming pool, bar and grill, cable television, air conditioning, meeting space and a health club.
South on Route 100, you'll find another charming historic inn. Widely known as "Vermont's most romantic country inn,"Thatcher Brook Inn is a Victorian mansion of grand style. Built in 1899 by lumber baron Stedman Wheeler, and named after the brook flowing nearby, the inn and its landmark twin gazebos, trellised gardens, and rambling wrap-around porch, evoke images of a genteel New England past.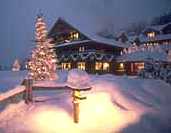 The Inn is listed on the Vermont Register of Historic Buildings, and is the epitome of a New England Country Inn with fireplaces and antiques at every turn. Thatcher Brook's new Innkeepers, John and Lisa Fisher, describe their Inn as the "most supremely well located inn throughout all New England."
Include Me shortcode: file not found
The Trapp Family Lodge dates back to 1939, when the famous Trapp Family Singers (whose story is told in the movie 'The Sound Of Music') were touring the United States. The small village of Stowe reminded the family of the quaint Austrian hamlet from where they fled Hitler's tyranny. The family's desire to introduce their music to American families led to the creation of the Trapp Family Music Camp – founded in Stowe in 1947. With the camp's growing popularity, overnight lodging was necessary and a few years later the first addition was made to the Lodge to accommodate the increasing number of guests. Thus began the Trapp Family Lodge, where today Johannes von Trapp, the youngest of the Trapp children, serves as President.
Include Me shortcode: file not found

Vermont Division for Historic Preservation
135 State Street, Drawer 33
Montpelier, VT 05633-1201
Ph: 802-828-3051

Vermont Products | Visit VT Towns | FWM 24/7 Shopping

Country Weddings | New England Recipes
VT Inns | Red Sox Gifts | Travel Destinations
Free World Mall

Country Weddings | New England Recipes
VT Inns | Red Sox Gifts | Travel Destinations