Vermont Hot Air Balloon Rides
VT Hot Air Balloon Rides & Balloon Services

A Vermont hot air balloon ride over the Champlain Valley is a not-to-be-missed experience! The thrill of being suspended hundreds of feet in the air in nothing more than a basket is one of the most unique experiences you can have, and no words can quite describe the sensation of weightlessness you feel while lifting off the ground and floating through the sky. Ask us about VT Hot Air Balloon Rides or share your reviews. To feature your Vermont business, contact us.


Above Reality Inc. Hot Air Balloon Rides, 70 Essex Way, Essex, VT 05452
Enjoy spectacular views of the Green Mountains, Lake Champlain, and the Adirondack mountains during a memorable balloon flight with our friendly and skilled staff. We'll whisk you above the ordinary and take you on a magical voyage above the treetops. All flights conclude with a champagne toast and VT cheese and fudge.
Visit Above Reality Hot Air Balloon Rides - Essex, VT
---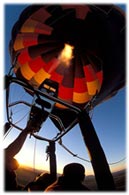 Climbing into a balloon basket can be rather tricky, as most baskets have very high walls and no doors. Most often, you will require the help of a large step stool and a lift from the ground crew. Being in a larger-than-life basket with the biggest balloon you've ever seen bobbing gently overhead will definitely change your perspective on size! The pilot then fires his burners for lift, and you have the vision of enormous flames, the sensation of incredible heat on your skin, and the deafening roar of the burners in your ears. Then, silence…. absolute and pure silence… as the basket lifts and you are overwhelmed with weightlessness and breath-taking landscapes.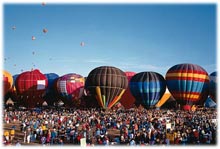 Hot air balloon festivals are great family events, and many of the pilots attending these festivals will offer tethered rides to the public. Vermont is home to two annual balloon festivals during the summer months; the Quechee Balloon Festival in June and theStoweflake Balloon Festival in July. In addition to the balloons, these events often offer regional performers, artisans, face painting and juggling workshops, as well as a "Night Glow" – when all balloons are illuminated after sunset.
The rides at balloon festivals usually occur either early in the morning, shortly after dawn, or in the evening about three or four hours before sunset. Why? Because the wind is calmest at these times of the day, and calm winds are a necessity for a successful hot air balloon journey.
If you plan on attending a Vermont hot air balloon festival, be sure to arrive early. Watching the crews set up and inflate numerous balloons at the same time is quite a spectacle. The roar of inflator fans and burners and the sight of brightly colored orbs slowly expanding and rising off the ground is stunning, to say the least, and will delight adults and children alike.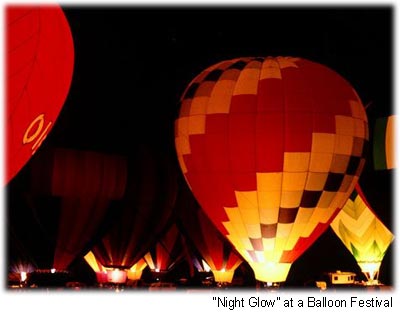 Vermont Products | Visit VT Towns | FWM 24/7 Shopping

Country Weddings | New England Recipes
VT Inns | Red Sox Gifts | Travel Destinations
Fitness and Sports Products On Sale Now
Free World Mall

Country Weddings | New England Recipes
VT Inns | Red Sox Gifts | Travel Destinations