Vermont Game Hunting Seasons
VT Fish and Wildlife Department Rules Regulations & Info

Vermont Hunting Grouse Season is an Autumn tradition in the Green Mountains. Vermont offers outstanding upland game hunting. Experienced hunters know that early planning often makes for greater success and fewer problems.
A wealth of hunting information can be obtained by visiting the areas you plan to hunt well in advance of hunting season. Get to know the "lay of the land", procure your hunting license, receive the permission of cooperative land owners, and pick up advice from locals. Share your VT hunting business, contact us.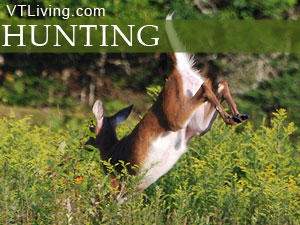 Some popular Vermont game-hunting species include:
Ruffed Grouse
The "Partridge" is native to Vermont and the most abundant upland game bird in the state.
Woodcock
Also known as "Timberdoodles", Woodcock are found throughout Vermont. There is a combination of native birds and migrating "flight birds" from Canada.
Waterfowl
The duck populations are growing in Vermont. Mallards, black ducks, wood ducks, and ring-necked ducks comprise most of Vermont's "diving duck" population. Goose hunters are finding more opportunities than ever in every corner of the state.

Black Bear
Vermont has one of the densest black bear populations in the country (approximately one bear for every three square miles). The Vermont black bear population is in good health due to monitoring and recent modifications to Vermont hunting regulations.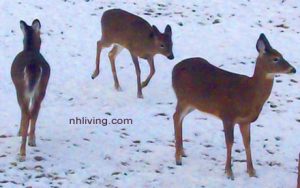 White-Tailed Deer
The Vermont Deer hunting season is one of the most active in New England with the addition of bowhunting which takes place in October.

Wild Turkey
The Wild Turkey is considered a "Big Game" under Vermont law. The turkey is making a big comeback in the Green Mountain State. Flocks of up to 50 have been spotted in late winter. The Wild Turkey population is especially strong in the areas near the Connecticut River valley.
For more information about Vermont Hunting and Vermont Hunting laws, licenses, rules, and regulations write to the Vermont Department of Fish and Wildlife, 103 South Main Street, Waterbury, VT 05671-0501, or telephone 802-241-3700.
The Vermont Fish & Wildlife Department is providing a toll-free telephone line as a service to in-state hunters. The hunter information line provides hunters with hunting conditions, season news, harvest numbers, and other season updates including deer hunting conditions, hunter education classes, and other info. The toll-free number is 800-718-HUNT, out-of-state callers may reach the line by calling 1-802-241-4349.
Effective Jan. 2017 VT Fish & Wildlife Department changed the eligibility for permanent hunting and fishing licenses. They have raised the eligible age from 65 to 70 for individuals seeking to purchase a lifetime Vermont hunting or fishing license. To change will mean seniors will still pay full fees to hunt and fish in Vermont – at least until age 70. Comment on the change by contacting your VT elected officials and Vermont Fish and Game.
SHOP HUNTING GEAR ON SALE

| Photo | Title | Price | Buy |
| --- | --- | --- | --- |
| | 350 FPS AGM Airsoft Tactical Pump Action Airsoft Shotgun with Extra 3 Shell | $44.95 | On Sale Now |
| | Seneca Double Shot .50 Cal Double Barrel Shotgun Air Rifle | $1,099.99 | On Sale Now |
| | Under Armour mens Tac Loadout Hunting Shoe, Coyote Brown (200 Coyote Brown, 10.5 US | $150.00 | On Sale Now |
| | Gogogo Sport Vpro Green Hunting Rangefinder -1200 Yards Laser Range Finder for Hunting and Golf with Speed, Slope, Scan and Normal Measurements - Rechargeable - with USB Cable (1200 Yard) | $69.99 | On Sale Now |
| | TIDEWE Hunting Clothes for Men with Fleece Lining, Safety Strap Compatible Water Resistant Silent Jacket and Pants, Hunting Suit for Climbing Hiking Trekking Camping (Next Camo G2 Size L) | $89.99 | On Sale Now |
| | HUNTER Women's Original Short Rain Boot,Black Matte,8 B(M) US | $118.52 | On Sale Now |
| | BLISSWILL Hunting Backpack Outdoor Gear Daypack for Rifle Bow Gun(New leaf camouflage color) | $55.99 | On Sale Now |
| | Hunter Original Women's Waterproof Chelsea Boot (Black, US Size 8) | $129.95 | On Sale Now |
| | Hunter Original Women's Adjustable Gloss Waterproof Rain Boots (Black, US Size 8) | $119.99 | On Sale Now |
| | Amazon Basics Portable Foldable Photo Studio Box with LED Light, 1 Count (Pack of 1), Black, 25 x 30 x 25 Inches | $61.99 | On Sale Now |
| | Legendary Whitetails Men's Standard Hooded Shirt Jacket, Maplewood Plaid, XX-Large | $79.99 | On Sale Now |
| | TIDEWE Hunting Clothes for Men with Fleece Lining, Safety Strap Compatible Water Resistant Silent Jacket and Pants, Hunting Suit for Climbing Hiking Trekking Camping (Next Camo G2 Size 3XL) | $109.99 | On Sale Now |
| | AOFAR HX-700N Hunting Range Finder 700 Yards Waterproof Archery Rangefinder for Bow Hunting with Range and Speed Mode, Free Battery, Carrying Case | $67.89 | On Sale Now |

Vermont Products | Visit VT Towns | FWM 24/7 Shopping

Country Weddings | New England Recipes
VT Inns | Red Sox Gifts | Travel Destinations
Free World Mall

Country Weddings | New England Recipes
VT Inns | Red Sox Gifts | Travel Destinations