Vermont Ice Fishing
VT Winter Fishing On Frozen Ponds & Lakes

Vermont offers some great lakes for beginners and casual ice-fishing enthusiasts who want easy access to both the lake and other activities and attractions. Vermont also has some incredible lakes for serious, experienced anglers who are willing to snowmobile for miles in order to find the best spot. You may also want to consider the type of fish you want to catch. Salmon, northern pike, brook trout, and lake trout (also called togue) are all plentiful if you know where to look. Ask us about VT Ice Fishing or share your Vermont fish tales. To feature your business, contact us.
When late fall clamps an icy lid over Vermont lakes and waterways, some anglers put their fishing gear away for the winter. However, an increasing number of Vermont outdoor enthusiasts are leaving the comforts of home and poking holes through the ice. Some anglers claim that fishing strikes come faster in the wintertime.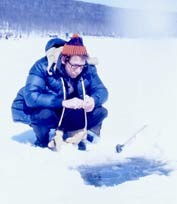 The same fish that are sought in the summertime do, of course, lurk beneath the ice during the winter (though not all fish bite then), and the eating is every bit as good (some say better). Tackle, ice augers, clothing, and ice-fishing shanties have reached sophisticated proportions in dealing with the only known enemies of the wintertime Vermont angler: ice and cold.
Tip-ups are devices that signal when there is angling activity on your line. Designs vary, but the essential feature is a flag that "tips up" when a fish strikes. A tip-up consists of crossed bars approximately the size of a large tire wrench. One bar spans a fishing hole; the other bar—with a reel and small flag at opposite ends—dunks vertically into the water.
Equipment. From the buckets, sleds, shelters, heaters and other trappings strewn around ice anglers on a frozen Vermont lake, it is clear that equipment plays an important role in ice fishing. But it's not the amount of equipment nor its complexity and cost that make for an effective ice-fishing outfit. More important is how the equipment fits the fishing style of the angler using it. Veteran ice anglers understand that, and no two of them are ever equipped exactly alike.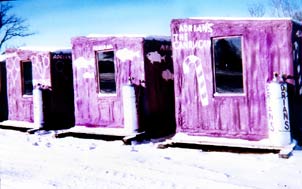 The only equipment about which anglers totally agree is clothing and boots, and anyone out on the ice in the wrong attire pays dearly in discomfort. The single most important item in an ice fishing wardrobe is footwear. Poorly shod feet pressed onto the ice will soon chill. Insulated rubber boots, or boots with separate, thick felt liners, are the best insurance against cold feet. Boots should fit loose enough to accommodate extra socks and to allow maximum blood circulation.
Good headgear is particularly important when ice fishing. Up to 80 percent of the heat lost on a cold day leaves the body from the head and neck. A wool cap or parka hood can provide comfort when you feel a chill, and if you're on the verge of breaking into a sweat, you can cool off merely by exposing your head.
Gloves are also needed, although the importance placed on them varies among anglers. Some wear light gloves inside mittens and do all but the most delicate knot tying and hook baiting with the gloves on. Others wear bulky, loose-fitting mittens and put them aside to do most tasks. Some anglers use gloves only when lugging gear long distances, keeping their hands stuffed deep inside warm pockets the rest of the time. If you need gloves on the ice, take two pairs in case the first pair gets lost or wet.
Getting started in ice fishing is easy. You need only a couple of inexpensive, lightly-rigged jigging poles (2- to 4-pound test for panfish, 6- to 8-pound for walleye), a few jigs and lures, small bobbers, split-shot, live bait such as minnows or waxworms, a bucket to transport gear and to sit on, an ice auger, and ice-skimmer.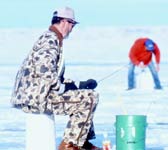 An ideal way for a novice to try his or her hand at this sport is to hook up with a resort that runs its own ice-fishing operation. They will have shanties located in productive spots and can give you the latest on what fish are biting, and which ice fishing tactics are working best.
If you want to go it alone, some basic tips will help. There are three Vermont ice-fishing seasons: first ice, mid-winter, and last ice. Many anglers believe first ice is the most productive, as fish are actively feeding, often still in shallow water. But first ice also can be dangerous. Never go out on any lake unless you're sure the ice is safe.
In mid-winter, weeds along the shore die, and fish tend to move deeper. As light diminishes and temperatures plummet, feeding tends to slow. But if you can locate schools of crappies, perch or walleye in pockets of deep water, vigorous jigging and the right lures can bring success.
Last ice brings new weed growth along shorelines, as well as more warmth and light, so fish tend to move back toward shallower water. In all three seasons, it helps to know something about a lakes bottom structure. Sporting goods stores carry detailed maps of many lakes. If you know a lake from fishing it in warm weather, apply that knowledge to your winter fishing.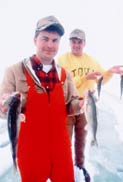 Is the Ice safe? Even though you may be eager to enjoy ice fishing, beware! Ice can be dangerous. Here are some hints on determining ice safety.
*Lakes rarely freeze uniformly. Early and late in the season, ice that's safe in the morning may be dangerous by afternoon.
*Prolonged frigid weather makes for safe, thick ice. Use an auger to test ice. At least four inches of clear, blue ice is probably safe for lone anglers and small groups of people in most conditions.
*Single, unbroken pressure cracks in the ice are probably safe to cross, but stay away from areas where cracks meet or intersect.
*Be extra careful where water levels vary, as in rivers, streams, inlets, outlets, coves, eddies, and springs. Moving water erodes ice from beneath, as does wind pushing water under ice.
*Avoid areas with "stick-ups." Protruding logs, brush, plants, and docks absorb heat from the sun, thereby weakening the surrounding ice.
What's the Best Ice Fishing Line?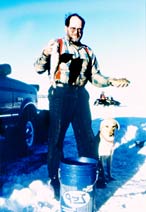 Technological advancements have created many "perfect" ice lines. None, however, is perfect for everything. Superlines, those braided polyethylene wonders, are perfect for walleyes in deep water, but only in some situations (not at minus 30F). Superlines are also less than perfect for hard-fighting fish, because fishhooks tend to rip out.
Where to Ice Fish. Vermont offers a number of productive destinations for the ice angler. Try Great and Little Averill Ponds near Averill; Lake Bomoseen near Castleton; Caspian Lake near Greensboro; Chittenden Reservoir near Chittenden; Lake Dunmore, near Salisbury; Eden Lake, near Eden; Harriman Reservoir near Wilmington; Island Pond near Island Pond, Vermont; Maidstone Lake, near Maidstone; Lac Memphremagog, near Newport; Shadow Lake, near Glover; Waterbury Reservoir, near Waterbury; Lake Fairlee, near Fairlee; and my personal favorite, Green River Reservoir, near Centerville.
A winter ice-angling mainstay in Vermont traditionally has been perch. The trick in perch fishing is to find a "hot" hole. In any perch area, there are always certain spots that produce the best. I won't spend much time at a hole unless bites are coming fast. Keep moving and drilling new holes until you hit a bonanza. I'm also partial to certain lures. For some reason, colors like green or red are tops in shallow water. Silver seems to be best in deep water. Persons planning to ice fish in Vermont should check the rules governing the specific waters he or she plans to visit. Those rules can be found at local bait and tackle shops.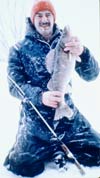 Initially, perhaps, a novice may find ice fishing simply an intriguing pastime to occupy long winter days. But once a person has mastered the essential skills, which is not difficult to do, an angler will find it an excellent way to enhance the dinner table. It all adds up to an extended fishing season and gives another dimension to Vermont's winter sports scene. For additional information about Vermont ice fishing write to Vermont Department of Fish and Wildlife, 111 West Street, Essex Junction, VT 05452.
– Mary Syrett
Good Luck Fishing in Vermont!
Ice Fishing Equipment Sale

The Vermont Fish and Wildlife Department publishes an informative Guide to Vermont Fishing that includes a map of Vermont and suggested lakes and streams, as well as designated charts of species found in each body of water. This guide is free and may be obtained wherever Vermont fishing licenses are sold, or by writing to:
The Vermont Fish & Wildlife Department
103 South Main Street, Waterbury, VT 05671-0501
Phone: 802-241-3700

Vermont Products | Visit VT Towns | FWM 24/7 Shopping

Country Weddings | New England Recipes
VT Inns | Red Sox Gifts | Travel Destinations
Fitness and Sports Products On Sale Now
Free World Mall

Country Weddings | New England Recipes
VT Inns | Red Sox Gifts | Travel Destinations