Vermont Inventions
VT Inventors, Innovators, Pioneers, Patents

This northern New England state is known for "Yankee Ingenuity". Several inventions that have changed the world have been patented by Vermonters. This partial listing of Vermont innovators and inventors demonstrates how the creativity and genius of one person can have an ever-lasting effect on the future of mankind. Ask us about VT Firsts and Inventors or share your Vermont history comments. To feature your business, contact us.
Vermont Firsts: Inventors in Vermont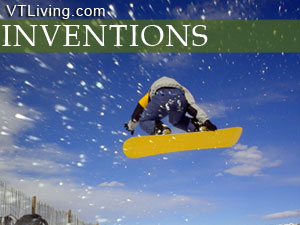 Samuel Hopkins
Pittsford, VT
In 1790 received the first U.S. Patent (signed by George Washington and Thomas Jefferson) for making potash.
Emma Willard
Middlebury, VT
Emma Willard opened the first women's seminary.
John Copper
Windsor, VT
In 1817 John Copper of Windsor, VT invented the rotary pump. 
Samuel Reed Hall
Concord Corners, VT
Mr. Hall wrote the first manual for teachers (Lectures on School Keeping) First normal school in America – introduced the blackboard.
Samuel Morey
Fairlee, VT
In 1826 Samuel Morey invented the first paddle wheel steamer. Morey is also credited with inventing the internal combustion engine.
Thaddeus Fairbanks
St. Johnsbury, VT
A fascinating individual, Thaddeus Fairbanks invented the iron plow, the platform scale, the process for artificial refrigeration and others. The amazing Mr. Fairbanks received 32 patents during his lifetime. There are several buildings that bear his name in St. Johnsbury.
Thomas Davenport
Brandon, VT
Tom Davenport invented the electric motor, electric railway, the printing press, and had the original idea for the Telegraph Editor of the first electric journal.
Windsor Armory
Windsor, VT
The Windsor Armory was the  first volume manufacturer of rifles utilizing interchangeable parts.
Gardner S. Blodgett
Burlington, VT
Gardner Blodgett invented the cast iron cooking oven in 1848. You still see them in antique stores.
Orvis
Manchester, VT
The Orvis company invented the open reel for fly fishing.
"Snowfake" Bentley
Jericho, VT
Mr. Bentley invented micro-photography and photographed more than 5,00 patterns of snowflakes.
Gilbert's Pasture
Pomfret, VT
This field just north of Woodstock, VT was the site of the Nation's first commercially operated rope tow. The field is now the site of Suicide Six Ski Area.
Jake Burton Carpenter
Londonderry, VT
A young Jake began making snowboards in Londonderry in 1977. Snowboarding is now an international sport.
IBM – International Business Machines
Essex Junction, VT
IBM has produced dozens of innovations, including; the first world-wide high volume production of silicon memory chips for computers, the world's first advanced x-ray mask facility, the first world-wide high volume production of DRAMs and high speed copper interconnect logic semiconductor chips.

Vermont Products | Visit VT Towns | FWM 24/7 Shopping

Country Weddings | New England Recipes
VT Inns | Red Sox Gifts | Travel Destinations
Free World Mall

Country Weddings | New England Recipes
VT Inns | Red Sox Gifts | Travel Destinations