Killington Ski Area Celebrates 50 Years
The East's Big Ski Area Hits A Milestone

More people ski Killington than any other ski area in Vermont. For big action and varied terrain for all abilities, choose Killington. There is also an excellent selection of Killington lodging available, choose from our listing of Killington area inns, resorts, lodges, hotels, home and slopeside condo and vacation home rentals. Killington's hidden extreme gem is Bear Mountain's Devil's Fiddle, a double black diamond trail with rocks, cliffs, and its own natural terrain features, which will see increased snowmaking and operation of its own quad chair. Please share your Killington Vermont news and updates. To feature your business in VT Living, contact us.
Vermont Ski Resorts – Killington VT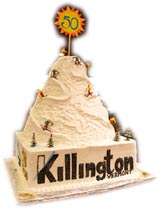 So what if the real Neil Diamond wasn't present – the torch-wielding skiers and mountain of entertainment were light and lively as the "Beast of the East" celebrated 50 continueous years of operation.
Killington opened on December 13, 1958. Back then, Killington was little more than a start-up ski slope. 50 years has brought much change to the Killington Road – formerly known as the Mountain Road. Killington now boasts 88 miles of terrain, over 190 trails, 30 ski lifts, the Killington Grand Hotel, and an adjoining golf course.
The Killington Road area has grown as well, and now features dozens of lodging properties, restaurants and retail stores.
The massive size of the resort and the hot nightlife scene are what drive Killington's growth. Most avid Killlington skiers and boarders will comment about the varied terrian and number of trails available. "I never get bored skiing this mountain" or "It seems I always discover a new run that I've never tried" are common quotes from long-time Killington faithfuls.
Killington Entertainment
Let's face it, skiing and boarding are social events. When a day on the slopes is over Killington rocks with some of the best nightlife in the east. The Pickel Barrel Night Club features live music from rap to reggae. The Wobbly Barn is nearly as old as Killington itself with music and dancing. Located on Summit Pond is the famous Grist Mill Restaurant – offering live music and dancing along with excellent fireside dining.
Killington History
It was Connecticut entrepeneur Preston Leete Smith who first dreamed of skiing on Killington – the second highest peak in Vermont. Smith met with Vermont state forester Harry Merril in 1954.
Killington Firsts
1961: Killington's first ski slope, devoted exclusively to beginners, opened. Called Snowshed, this gentle slope is ideal for first-timers.
1963: A Killington employee named Charlie Hanley invented the ticket wicket, a wire that loops through a jacket zipper to hold a lift ticket.
1963: Killington becomes the first northern New England resort to install snowmaking equipment and becomes a pioneer in perfecting snowmaking technology.
1968: Design begins for the Killington Gondola. This 3.5 mile lift was the longest in the world at the time. Installation takes more than three years and runs more than $3 million dollars over budget.
1980: Killington assists in developing a winch cat. The winch cat allows trail grooming equipment to be anchored to the mountain. It is used to groom especially rugged terrain.
Killington Vacations
Another reason for the growing popularity of Killington is the assortment of outstanding lodging accommodations available for Killington visitors. Killington Resort features Killington Grand Hotel and other lodging accommodations, and just down the hill you'll find a myriad of other lodging options. There are professional Killington Vacation Rental Agencies that offer slope-side homes and condos, wonderful Killington Inns, full-service hotels and resorts and even pet friendly lodging that is just minutes for the Killington base mountain lifts.
Check current Killington weather conditions, visit our Killington town page or check current Killington ski conditions.
Make sure to include a visit to Killington into your New England travel plans.
inns | hotels | resorts | rentals | dining | real estate

Vermont Products | Visit VT Towns | FWM 24/7 Shopping

Country Weddings | New England Recipes
VT Inns | Red Sox Gifts | Travel Destinations
Free World Mall

Country Weddings | New England Recipes
VT Inns | Red Sox Gifts | Travel Destinations