Kingdom's Bounty
A Guide Book to Vermont's Northeast Kingdom
We had the pleasure of receiving a wonderful new book about Vermont recently. More specifically the book is about Vermont's rural northeastern region known as "The Northeast Kingdom".
Kingdom's Bounty is the title and it was written by Bethany Dunbar. Bethany knows the Kingdom and is employed at The Chronicle – an independent Vermont weekly newspaper with offices in Barton, VT. Ask us about Vermont or share comments. To feature your business in VT Living, contact us.
Vermont Book- Kingdom's Bounty
Kingdom's Bounty – calls itself a sustainable, eclectic, edible guide to Vermont's Northeast Kingdom. To appreciate the beauty of rural Vermont – or to introduce yourself to this region, pick up a copy of Kingdom's Bounty. The writing is crisp and concise and the accompanying photos delightful. This guidebook is full of compelling stories, interesting facts, and useful listings.
Discover the treasures of Vermont's Northeast Kingdom, the country inns, restaurants, hotels, attractions, real estate agents, and other businesses. Bethany knows the Kingdom intimately and shares her knowledge and insights with readers. She is co-editor of The Chronicle and a regular contributor of articles and photographs to New England Country Folk. She also does a weekly live radio interview with WDEV radio and has appeared on the Vermont Public Television news show Vermont This Week. She is past president of the Vermont Press Association and serves on the board of directors.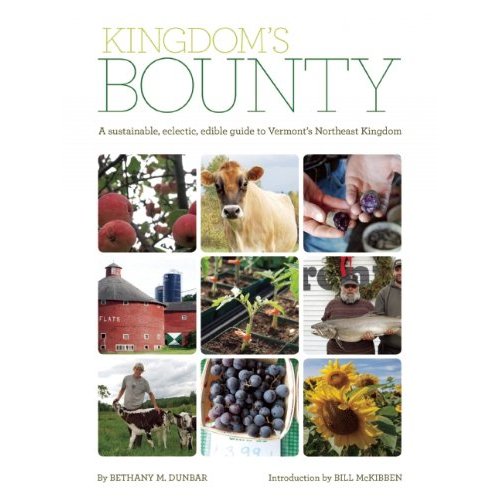 inns | hotels | resorts | rentals | attractions | dining | real estate
NORTHEAST KINGDOM VERMONT

Vermont Products | Visit VT Towns | FWM 24/7 Shopping

Country Weddings | New England Recipes
VT Inns | Red Sox Gifts | Travel Destinations
Free World Mall

Country Weddings | New England Recipes
VT Inns | Red Sox Gifts | Travel Destinations