Northeast Kingdom VT Lakes & Reservoirs
Lyndonville Peacham VT Lakes & Ponds

The Northeast Kingdom of Vermont – is home to many lakes and ponds. This is a rural region and some of the ponds and lakes are quite remote. Some of the Northeast Kingdom's larger recreational lakes include Crystal Lake, Lake Memphremagog, and Caspian Lake. Follow the town name for more Vermont town and weather info. Links on the Lake name will lead you to a lake chart and map if available. Read about Vermont Fishing, or share Vermont waterway comments. To feature your Vermont business, contact us.
Northern Vermont Lakes & Waterways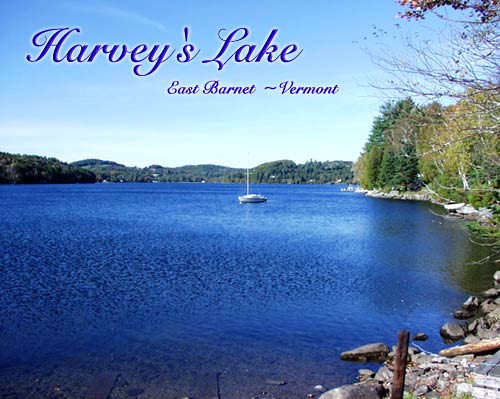 The State of Vermont maintains downloadable maps of all the ponds and lakes in Vermont. The link is provided as a public service from Vermont Living Magazine. https://dec.vermont.gov/watershed/lakes-ponds/data-maps/charts and may be updated.
Beaver Pond
Holland, VT
There are two very small islands located on this remote pond. This pond located just south of Quebec – Vermont border in Holland, Vermont.
Brownington Pond
Brownington, VT
There is a Fish & Game access on Vermont town highway 32 in Derby, though most of this pond is located in Brownington.
Caspian Lake
Greensboro, VT
This large Northeast Kingdom Lake is home to some very large Lake Trout. This is Lake is more than 100 feet deep.
Center Pond
Newark, VT
This is a well-known fishing spot for brook trout and perch. The pond is one of several in the Northeast Kingdom town of Newark.
Clyle Pond &  Pensioner Pond
Derby, VT
This large Northeast Kingdom Lake is home to some very large Lake Trout. This is Lake is more than 100 feet deep.
Elwell Pond
Peacham, VT
There are native brook trout in this pond. The center of the pond is about 70 feet in depth. This is about 40 acre surface area of water.
Goslant Pond
Peacham, VT
This is another of several Peacham Vermont ponds. This pond is also known as Spice Pond and is said to harbor Vermont trout and other fish.
Holland Pond
Holland, VT
Hartwell Pond
Albany, VT
Island Pond
Brighton, VT
This is one of the largest lakes in the Northeast Kingdom. Named for the island that sits in the middle of the lake. This lake is stocked and patroled by the Vermont Fish and Game Department. An excellent boat launch may be found on the southern shore of this popular lake.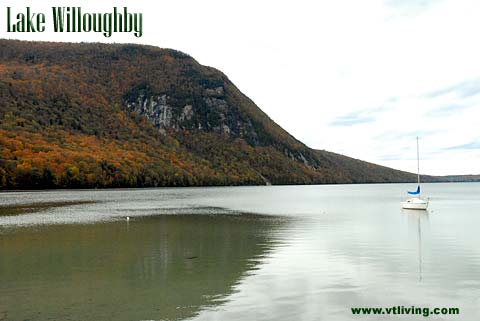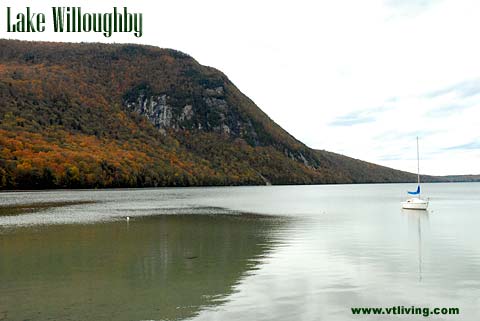 Joe's Pond
Danville, VT
This is a popular summer recreation lake. This 393-acre lake is located mostly in Washington county though the Danville Town Beach (Caledonia county) is located on the northeastern shore of this pond. The pond is famous for its annual Joe's Pond Ice Out Contest. Priest Island and Sims Island are located on Joe's Pond. Joe's Pond is just under 100 feet at its deepest section. Fish species found include Smallmouth Bass, Pickerel, Perch, Rainbow Trout, Lake Trout, Sunfish, Horned Pout, and Rock Bass.
Willoughby Lake
Westmore, VT
This is a very large and deep glacial lake. Willoughby Lake has a beach with parking on the northern end of the lake. The lake is home to Lake Trout and Landlocked Salmon. This lake is more than 200 feet deep.
inns | hotels | resorts | rentals | attractions | dining | real estate
Champlain Valley VT Lakes & Waterways
Burlington, Middlebury, St. Albans, the Islands of NW Vermont
North Central VT Lakes & Waterways
Montpelier, Barre, Randolph, Waterbury, Stowe, Mad River Valley
Northeast Kingdom VT Lakes & Waterways
St. Johnsbury, Newport, Barton, Lyndonville, Burke, Jay, Island Pond
South Central VT Lakes & Waterways
Rutland, White River Jct., Woodstock, Quechee, Brandon, Killington, Ludlow, Weston, Chester
Southern VT Lakes & Waterways
Bennington, Brattleboro, Manchester, Arlington, Newfane, Mt. Snow area

Vermont Products | Visit VT Towns | FWM 24/7 Shopping

Country Weddings | New England Recipes
VT Inns | Red Sox Gifts | Travel Destinations
Free World Mall

Country Weddings | New England Recipes
VT Inns | Red Sox Gifts | Travel Destinations