Landmark Trust USA – Dummerston, VT
Historic Vermont Vacation Rental Homes & Orchards
What a great weekend at a truly historic Vermont Farm House! A weekend renting the Dutton Farm House in Dummerston Vermont. One of five properties operated by Landmark Trust USA, the farmhouse is located near the highest point of the 571 acre Scott Farm. Scott Farm grows heirloom apples and this years crop was ripe and ready when we arrived. We enjoyed spectacular views and had access to many types of outdoor activities including hiking, biking, sledding, cross country skiing, apple picking, or just some simple contemplation.
Four of us visited the wonderful rental home where we relaxed and settled in for a bit, to enjoy an overcast but mild temperature weekend.
 A bit hampered for outdoor activities, we found that several board games, books, and puzzles were in supply. We spent time lounging on 2 down filled couches that faced each other in front of a gas burning Yodel stove. Absolutely perfect for just great conversation and laughter. A bit skeptical on how three days without a television would work, we soon found that a strong WIFI signal gave us more than enough access to the outside world if we had needed. Nobody missed technology; we had each other for laughter and great conversation.
The Dutton Farmhouse is one of several historic vacation rental properties owned and operated by Landmark Trust USA. The farmhouse will accommodate 8 comfortably with two and a half bathrooms and two large living rooms with ample space.
We were pleased to discover, as advertised, that the kitchen was very well equipped for both cooking and baking. We just had to bring food and with many specialty markets and large grocery stores just 3 miles away, we had an abundance of choices.
Apple crisp was on the menu with amazing heirloom apples purchased from the Scott Farm Market when we checked in. The aroma of cooking apples seemed to penetrate the farmhouse as it had many times in yesteryear. The dining table with seating for 8 or ten would be the perfect place for a roasted turkey with all the fixings for the holidays or just a gathering at evening dinner. A charcoal grill, full-size refrigerator, Jenn air stove, and dishwasher made preparing meals easy. A kitchen ready for even a holiday meal makes this rental home ideal for family reunions or gatherings.
I must say that the combination of great mattresses and linens, the quiet of the countryside and the relaxing environment made for sound sleeping. Accustomed to waking early, we were all a bit surprised at sleeping well past sunrise.
I recommend the Dutton Farm House as a perfect getaway for a few couples, friends, family get-together's or reunions. It is truly a pleasant break from the everyday hustle and bustle. The Landmark Trust USA website has additional information about this unique and historic Vermont property for rent by the night, weekend or extended stay.
To share your Vermont business, contact us.
Include Me shortcode: file not found
inns | hotels | resorts | rentals | attractions | dining | real estate

Vermont Products | Visit VT Towns | FWM 24/7 Shopping

Country Weddings | New England Recipes
VT Inns | Red Sox Gifts | Travel Destinations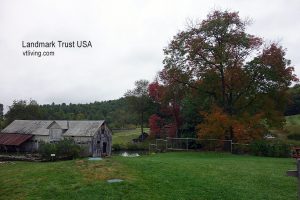 New England Living Magazine
Free World Mall

Country Weddings | New England Recipes
VT Inns | Red Sox Gifts | Travel Destinations