Vermont Legal Services
VT Lawyers, Legal Aid, Attorneys, Law Firms

Vermont Lawyers, Attorneys, and Legal Services may be found in all regions of Vermont. Legal representatives who practice in Vermont and offer a wide variety of representational services, including family law, personal injury, wills & estates, real estate, civil litigation, criminal defense, elder law, guardianships and conservatorships, living wills, powers of attorney, appointment, trusts, Medicare & Medicaid, and title insurance–to name only a few. Ask us about Vermont Legal Service or share comments. To feature your Vermont business, contact us.
Vermont Lawyers & Legal Aid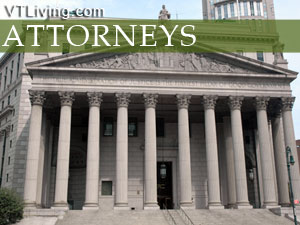 Adams Law Office
74 Main St.
Wells River, VT 05081
Ph: 802-757-2500
General law practice with concentration in real estate, family law, wills, and personal bankruptcy. 
Axelrod & Adler
1194 Main St.
St. Johnsbury, VT 05819
Ph: 802-748-8161
Specializing in real estate & probate; also injury: car accidents, pain & suffering, wrongful death, medical malpractice, personal injury, & workers' comp.; also protect job & license: DWI-suspended driver's license, assault, breaking & entering, sexual assault, illegal search or arrest, & drug offenses.
Biggam, Fox, & Skinner Attorneys-at-Law
453 Stone Cutters Way
Montpelier, VT 
Ph: 1-800-995-4807
Specializing in assisting people injured on the job/workers' comp. issues, auto accidents, pedestrian accidents, injury by defective product, wrongful death, denial of long-term disability benefits.
Richard A. Cawley
PO Box 723,
102 Main St.
Bradford, VT 05033
Ph: 802-222-9234
Specializing in estate planning. 
Cummings Dailey & Cohen, LLP
125 Elm St.
Bennington, VT 05201-0061
Ph: 802-442-9383
Specializing in general practice, corporate, banking, estate planning & probate, family law, criminal law, personal injury representation, workers' comp., & real estate.
Donovan & O'Connor, LLP
116 St. St.
Bennington, VT 05201
Ph: 802-442-3233
Attorneys & counsellors-at-law serving the legal needs of MA & Southern VT for over 80 years.
Downs Rachlin & Martin PLLC
90 Prospect St.
St. Johnsbury, VT 05819
Ph: 802-748-8324
Specializing in alternative dispute resolution.
Stephen L. Fine
Rte. 35, Rd. 3, Box 147
Athens, VT 05143-8802
Ph: 802-869-2703
Specializing in criminal law.
Richard A. Gadbois
RR 1 – Box 1680
Enosburg Falls, VT 05450
Ph: 802-933-4514
Specializing in probate & estate administration. 
Hermann Law Office
51 Ridgeline
Panton, VT 05491
Ph: 802-475-3425
Intellectual Property Law; Patent, Trademark, Copyright, Internet, Trade Secret, Technology Licensing, Small Business & Entreprenuerial Law. Computer law & software licensing. Intellectual porperty valuations & communication law. Inventor counseling.
Law Office of John H. Hollar
52 State Street
Montpelier, VT 05602
Ph: 802-229-5224
Providing legislative & regulatory services in the areas of insurance, public utility and health care law. Also provides legal services in the areas of Act 250 and municipal permits, bankruptcy & workers compensation. 
Gregory P. Howe, Attorney-at-Law
5346 U.S. Rte. 5, Derby Rd.
Newport, VT 05855
Experienced representation of seriously injured victims since 1975. Personal injury, wrongful death, auto accidents, insurance claims, professional malpractice, & all civil matters. Free initial consultation.
Independent Associate, Pre-Paid Legal Services, Inc.
440 Bayley-Hazen Rd.
Walden, VT 05843
Ph: 802-563-2197
Legal service plan, comprehensive legal coverage.
Joseph P. Jiloty, Attorney
24 1/2 Center St.
Rutland, VT 05701
Ph: 802-775-8081
General practice including Personal Injury, Real Estate, Employment Issues, Divorce and Custody, Child Support. 
Kohn & Rath
PO Box 340
Hinesburg, VT 05461
Ph: 802-482-2905
Experienced VT lawyers, handling personal injury/accident cases, business, banking, & corporate law, employment law, real estate, workers compensation, & all other legal matters. 
Brad Myerson Law Offices 
5261 Main St., Rte. 7A
Manchester Center, VT 05255
Ph: 802-362-1505
Specializing in personal injury (plaintiff), workers' comp., DWI (defense), & general civil litigation (construction, breach of contract, etc.).
Thomas R. Paul, PLLC
PO Box 307
St Johnsbury, VT 05819-0307
Ph: 802-748-1960
Specializing in family law.
Schoenberg & Associates
125 College St.
Burlington, VT 05401
Ph: 802-864-3120
Experienced Vermont lawyers practicing exclusively in the area of divorce & family law. 
Tapper Law Offices
55 Clinton St.
Springfield, VT 05156
Ph: 802-885-9666
Specializing in elder law, special needs planning, & settlement structuring.
Willey & Power
Douglas Willey
1129 Main St., PO Box 39
St. Johnsbury, VT 05819
Ph: 802-751-0444
Specializing in criminal defense, divorce, & family law.
Willey & Power
J. Gilbert Power
267 Main St.
Newport, VT 05855
Ph: 802-334-7911
Specializing in criminal defense, divorce, & family law.
Zuccaro, Willis & Bent, P.C.
PO Box 97,
1330 Main St.
St Johnsbury, VT 05819
Ph: 802-748-8958
Specializing in motor vehicles, faulty projects, commercial litigation, wrongful death, malpractice, workers' comp., boundary disputes, & appeals.

Vermont Products | Visit VT Towns | FWM 24/7 Shopping

Country Weddings | New England Recipes
VT Inns | Red Sox Gifts | Travel Destinations
Free World Mall

Country Weddings | New England Recipes
VT Inns | Red Sox Gifts | Travel Destinations