Liz Lovely Cookies
A Vermont Business Profile from "Try Vermont First"
Vermont Living Magazine presents a series of Vermont product reviews and commentary from native Vermonter Honi Bean Barrett. Ask us about Vermont Products or share Liz Lovely Cookies reviews. To feature your Vermont business, contact us.
Vermont Product: Liz Lovely Cookies

After seeing the website for Liz Lovely cookies I not only wanted to try their cookies, but I wanted to meet their owners. I emailed "Cowboy Dan, Maverick CEO" and he promptly emailed back to say that he was happy to share cookies with Try Vermont First.
We received a beautifully presented box of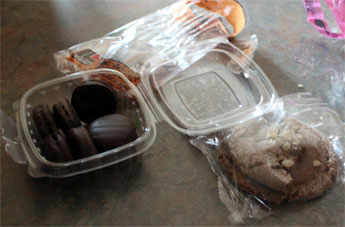 cookies from Liz Lovely Cookies and decided to try them right away. Halfway through 3 cookies, I said "Oh man, I forgot to take a picture of the cookies!". So here is my sad, half-eaten picture for this post: Liz Lovely cookies are certified vegan. I have never had a vegan cookie (I am not sure I have ever had anything labeled "vegan"). When the cookies arrived I said, "well I hope that they are good". Good? They blow "good" right out of the water! These cookies are awesome! My husband and son nod in agreement (with a mouth full of cookies!)
Here are the flavors that we are so anxious to tell you about: Liz Lovely Cowgirl Cookies "like cookie dough" – These are just like cookie dough! I would bet that if you gave this cookie to someone with a blindfold on they would have no idea that it wasn't cookie dough. It is a soft, sweet cookie with just the right amount of chocolate. Ginger Snapdragons with Crystallized Ginger – My son said "they are just like Nonna's", and that is a huge compliment. Yum! It is hard to stop eating these cookies. The crystallized ginger offers a sweet spice that warms your tongue. This might be my favorite cookie!
Chocolate Moose Dragons – These cookies reach the highest level of chocolatey fudginess ever. I ate the first one and kicked myself for starting this taste test with my husband, who I knew would want the other chocolate cookie. Note, next time I will hide these in the veggie drawer, he never looks in there! Lovely Ohs – I had asked for this cookie specifically because I wanted to share it with my Oreo O-obsessed little brother. I wanted to share with him what a real cookie should taste like. These are Oh so rich and Oh so sweet and OH so much better than an Oreo (there is no comparing, truly). My brother agreed that these cookies were great!
Fast forward to Father's Day 2012. I did not buy my husband fancy gifts or make him a special dinner, but I did present him with a package of Liz Lovely's Gluten Free Chocolate Cookies and he was a very happy Daddy. He commented, "Have you told this company how much we like their cookies yet? They are ridiculously good".
– Honi Bean Barrett
Look for Liz Lovely Cookies at your favorite food store.
Honi Bean Barrett grew up in Vermont. After college and traveling afar, she knew that Vermont is where she and her family should and would settle down and plant roots. Her blog came to life after her son asked her to buy local products at a Vermont Farmer's Market. Honi set out to try, test, sample, and review these homegrown products for friends and family. In the process, she found products that she loves, and she loves supporting the Vermont economy!
SHOP ANYTIME AT FREE WORLD MALL

| Photo | Title | Price | Buy |
| --- | --- | --- | --- |
| | Granny Bella Chocolate Chip Cookie Gifts, Homemade Fresh Bakery Cookies for Fathers Day, Prime Gift Basket Ideas For Dad Husband Grandpa Stepdad From Daughter Wife Son Kids Girlfriend Baskets Delivery (Regular) | | On Sale Now |
| | David's Cookies Gourmet Butter Pecan Meltaway Cookies Gift Basket – 32oz Butter Cookies with Crunchy Pecans and Powdered Sugar – All-Natural Ingredients – Kosher Recipe – Ideal Gift for Corporate Birthday Fathers Mothers Day Get Well and Other Special Occasions | $25.95 ($0.81 / Ounce) | On Sale Now |
| | European Cookies LIMITED EDITITON Kirkland Signature with Belgian Chocolate, 49.4 Ounce | $31.00 ($0.63 / Ounce) | On Sale Now |
| | Barnetts Rakhi Biscotti Gift Baskets, 24 Cookie Chocolates Box, Chocolate Covered Cookies Holiday Gifts, Gourmet Prime Candy Basket Delivery, Edible Food Raksha Bandhan Ideas From Daughter Wife Step Son Sister, For Dad Grandpa Husband Papa Brother | $39.99 ($39.99 / Count) | On Sale Now |
| | Lotus Biscoff Cookies, Caramelized Biscuit Cookies, 144 Cookies (12 Sleeves of 6 Two-Packs) Vegan, 3.28 Ounce (Pack of 12) | $27.48 ($0.70 / Ounce) | On Sale Now |
| | GrannyBellas Christmas Chocolate Gift Baskets, Gourmet Covered Cookies, Prime Candy Box Ideas, Milk Chocolates Gifts, Mens Holiday Cookie Basket, Edible Food Delivery From Son For Mom Women Wife Sister Daughter | | On Sale Now |
| | Walker's Pure Butter Shortbread Traditional Assortment - 17 Assorted Cookies Per Box - Authentic Shortbread Cookies from Scotland | $19.23 ($1.09 / Ounce) | On Sale Now |
| | Mrs. Fields - 30 Nibblers Signature Cookie Tin, Assorted with 30 Nibblers Bite-Sized Cookies in our 5 Signature Flavors (30 Count) | $34.99 ($1.17 / Count) | On Sale Now |
| | David's Fresh-Baked Winter Wonderland Christmas Cookies in Tin, 0.5 Oz Assorted Mini Cookies Gift Basket with Chocolate Chip, Chocolate & White Chocolate Chip & Red Velvet Cookies, Gourmet Holiday Food Gift Basket | $24.95 | On Sale Now |
| | Danisa, Butter Cookies Tin, 16 Ounce | $13.89 ($0.87 / Ounce) | On Sale Now |
| | Pepperidge Farm Milano Cookies, Dark Chocolate, 20 Packs, 2 Cookies per Pack | $17.66 ($1.18 / Ounce) | On Sale Now |
| | GrannyBellas Mothers Day Chocolate Gift Baskets, Gourmet Covered Cookies, Prime Candy Box Ideas, Milk Chocolates Gifts, Mens Holiday Cookie Basket, Edible Food Delivery From Son For Mom Women Wife Sister Daughter | | On Sale Now |
| | Kelsen Danish Butter Cookies - 80 Oz | $44.98 ($0.56 / Ounce) | On Sale Now |
VT Lodging Guide | VT Maps | VT Attractions | VT Realty

Vermont Products | Visit VT Towns | FWM 24/7 Shopping

Country Weddings | New England Recipes
VT Inns | Red Sox Gifts | Travel Destinations




Free World Mall

Country Weddings | New England Recipes
VT Inns | Red Sox Gifts | Travel Destinations