Llama Trekking
Vermont Llama Hikes & Family Vacation Adventures


Smugglers' Notch Vermont, America's Family Resort, 4323 VT Rt.108, Jeffersonville, VT | 802-332-6854
SMUGGLERS' NOTCH RESORT. At America's Family Resort, experience Mountain Resort Village living, award-winning children's programs, family activities, 3 big mountains of skiing and snowboarding, plus entertainment, dining, shopping, year-round Zipline Canopy Tours & more. Family Fun Guaranteed. Smuggs offers four season Vermont family vacation experiences unlike any other!
Visit Smugglers' Notch Resort- Jeffersonville, VT
---

Hiking with Llama in Vermont. Do you and members of your Vermont family love to hike, but prefer not to carry your gear? Then why not have a hairy, friendly four-footed companion lighten the load? Llama trekking offers hikers the opportunity to see beautiful Vermont back country wilderness without hassling with heavy camping equipment. Smugglers' Notch Resort has llamas on premises and a unique opportunity awaits you at this award-winning family resort in Vermont. Ask us about Vermont Llama traks, llama farms or share comments. To feature your Vermont business, contact us.
Vermont Llama Farms & Family Vacations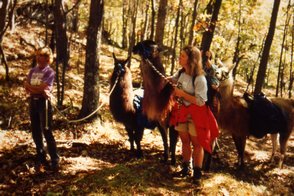 Bred as beasts of burden in South America for 6,000+ years, llamas are not only the world's most sure-footed bellhops, they also happen to be extremely friendly creatures who love kids and make great traveling companions.
Llamas are curious. By that I not only mean that they're inquisitive, which they certainly are, but they're also curious to look at. Surely one of nature's practical jokes, these members of the camel family have ears like rabbits, giraffe-like necks, fleece like sheep, and leave footprints that are often mistaken for those of a moose. They stand about three to four feet at the shoulder, but their camel-like heads can tower well over six feet.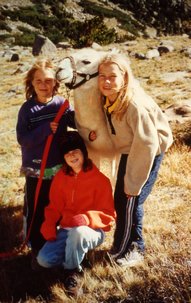 Llamas come from the towering Andes Mountains of Peru, where they are important members of many a Peruvian family and can live to be 25 years old. Excellent pack animals, in South America they are used to carry produce to market and sometimes draw carts. No bit is ever placed in the animals' tender mouths, which have front teeth only on the bottom jaw, with just a dental pad above (which is why people, including children, need never worry about being bitten by a llama).
Publisher William Randolph Hearst collected on a grandly eclectic scale. Hearst thought that browsing llamas might be just the thing to embellish the craggy California coastline of his fabulous San Simeon estate. The Hearst-imported herd that modestly began with three males and three females over time became well established. Many of the llamas found in this country today are descended from the Hearst animals.
Since running is one of their two instinctive defenses, llamas don't like to be enclosed. Their second means of self-defense, spitting, has resulted in bad press–far more than the animals deserve. Llamas might spit when their space is invaded, or in a squabble over food. Normally, though, a llama won't just up and spit at you.
One reason why llamas have gained such a bad reputation for spitting is that the public's most frequent contact with them is at the zoo. Zoo animals are often teased, with the result that a well-mannered llama will become a spitter–with a big audience.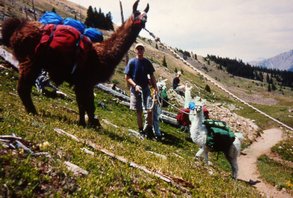 Llama trekking, a labor-saving twist on the spirit-building and spine-bending sport of backpacking, has been growing steadily in Vermont over the past 20 years, especially among families with children. Although a llama can't carry a fully-grown person, they can carry children weighing less than 75 pounds who may become tired while hiking on a trail. This sure-footed creature makes a strong, undemanding porter that can easily tote all camping essentials. Even children with no previous experience handling pack stock can lead the animals.
A llama's eyesight is incredibly sharp. On the trail, llamas often spot wildlife that hikers would otherwise miss; they also alert hikers to approaching horseback riders or backpackers before they're visible to people.
Another benefit from using llamas as porters is that their feet make little impact on a trail. Their tracks do far less damage to a trail than do the lugs of a hiker's boots. This is definitely a plus, because the deep-cut tracks left by horses and boot lugs oftentimes lead to trail erosion.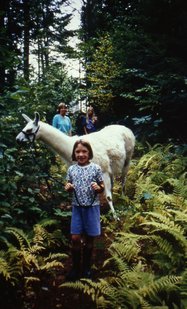 For the wilderness traveler, a llama can help families reach out-of-the-way places, or traverse difficult but rewarding terrain. Just as important, a llama offers companionship. No matter how wild the territory you may find yourself in, a hiker with a llama is never alone, and chances are the llama will be humming to him or herself–a sure sign of contentment.
On the Vermont llama trek I took in the summer of 2004, the pace was slow and easy, leaving plenty of time to savor the scenery. As we moved deeper into the forest, sounds and light became muted. An occasional wash of sunshine filtered through the trees. It was peaceful. All we heard were the muffled thud of our footsteps, an occasional snort of air from one llama, as well as a giggle or two from a pair of other "porters," and the distant rumble of water.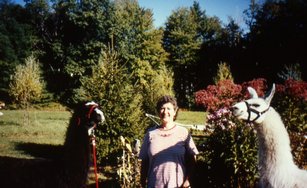 Mealtime is when I appreciated my shaggy friends the most. Folding tables and chairs appeared magically from the llamas' saddlebags, along with such refinements as linens and sparkling champagne. The meals were unlike any I'd ever had in camp before: chicken crepes with creamy, rich Hollandaise sauce, spicy shrimp scampi and red pepper pasta, tender beef and veggie kebobs, homemade breads and rolls, fresh strawberries and cream, as well as chocolate-pecan brownies with mint ice cream.
In the evening, the llamas were staked out in a circle and allowed to graze. They conscientiously protected one another, as well as us. At night, one llama stood guard while the rest lay down. Throughout the night, llamas all take their turn on guard duty.
Individualistic, intelligent and lively, though at times baffling, llamas are decidedly different. Horse people look at them and see horse qualities. Cow people see cow qualities. Many people look at them and say they're big sheep. Llamas have all these qualities and much more, and that's what makes the animals so interesting.
Llamas are dignified and quiet animals that enjoy being with people; in fact, they dislike being alone. The animals' charm is evident, as their large liquid eyes fringed with long lashes seem to look right into your soul; you may even occasionally receive a gentle kiss. Vermont parents who take their families on a llama trek will return home with memories that will last forever. Smuggler's Notch Resort offers Llama treks Tuesday – Saturday until September 5th. Visit the Smugglers's Notch Resort for more information.
Llama trekking is an incredible experience. Enjoy.
– Mary Syrett for Vermont Living Magazine
Some other Vermont companies that may offer llama treks include: Northern Vermont Llama Co., Waterville, VT Ph: 802-644-2257; Dream Come True Farm, Hartland, VT Ph: 802-295-1573, Cold Hollow Llamas, Belvidere, VT Ph: 802-644-5846.


Vermont Products | Visit VT Towns | FWM 24/7 Shopping

Country Weddings | New England Recipes
VT Inns | Red Sox Gifts | Travel Destinations
Free World Mall

Country Weddings | New England Recipes
VT Inns | Red Sox Gifts | Travel Destinations