Big Cats in Vermont
Canada Lynx, Catamounts, Eastern Cougar & Bobcat Sightings in VT
The really big cats are making a comeback here in Vermont. Sightings of the Canada Lynx have now been confirmed. The Canada Lynx is now living in Vermont.  Some people also claim that the Catamount, Panther, or Cougar are here as well. Be sure to scroll to the bottom of the page to read recent VT sightings. Ask us about VT Catamount, Cougars, or Lynx, or share your Vermont wildlife comments. To feature your business, contact us.
Vermont's Wild Cats – Catamount & Lynx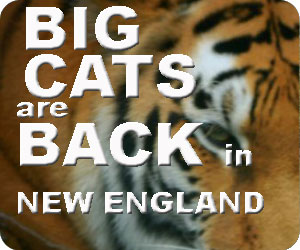 The Vermont Fish and Wildlife Department has recently confirmed what many north country folks have been saying for more than a decade – the big cats are back in Vermont. Recent Lynx sightings have been photographically recorded in southern Vermont. See the photo below.
Canada lynx are breeding in Vermont's Northeast Kingdom. According to the Vermont Fish & Wildlife Department, only four confirmed sightings occurred in the state from the late 1700s to the early 2000s.
Lynx sightings and Catamount sightings have been on the increase every year since 2003.
The Vermont Fish and Wildlife Department is conducting surveys to determine the full extent and distribution of lynx in Vermont.
Canada Lynx are rarely seen – they are most mobile and feed primarily at night. Lynx are nocturnal and secretive felines. They are similar to bobcats in appearance, but lynx have larger bodies and longer ear tufts than bobcats.
The easiest way to distinguish a lynx from a bobcat is by the lynx's solid black-tipped tail and enormous, furry paws. They are about twice the size of a domestic cat.
According to Chris Bernier, a biologist for Vermont Fish & Wildlife and the lynx survey leader, most confirmed lynx sightings have been on publicly owned lands in the Nulhegan Basin at Silvio O. Conte National Fish and Wildlife Refuge in the rural Northeast Kingdom area of Vermont.
Lynx and other large cats have been spotted in the Northeast Kingdom and in nearby northern New Hampshire. Some people attribute the recent rash of sightings to the animals being displaced by recent development in Quebec and far northern Maine. A large cougar or eastern mountain lion has been seen in the Moore Dam Reservoir area of Littleton, NH by several eye-witnesses.
The reforestation of the Great North Woods of New England is probably a contributing factor. The mixed-conifer forest provides the perfect habitat for large cats.
Lynx are listed as 'threatened' under the Federal Endangered Species Act and as 'endangered' under Vermont's Endangered Species Law.
Please share your comments, Lynx sightings, and photos of Vermont Wildlife with us.
We are in Shaftsbury, VT. This morning around 9:30a we had a young bobcat walk through our yard. It looked like it had a slight limp sadly. We are a little nervous about our puppy, hopefully, the mama keeps further from our house than the kitten did.
Vermont Activities | Vermont Attractions  
Vermont Wildlife | Vermont Events

Vermont Products | Visit VT Towns | FWM 24/7 Shopping

Country Weddings | New England Recipes
VT Inns | Red Sox Gifts | Travel Destinations
Fitness and Sports Products On Sale Now
Free World Mall

Country Weddings | New England Recipes
VT Inns | Red Sox Gifts | Travel Destinations