The Deerfield Valley Transit Association
The MOOver Vermont Public Transportation

Visit Vermont and stop into the Vermont Chamber of Commerce office in the area you are interested in for current information about public transportation services. In general, public transportation is limited in many parts of Vermont. Bus Service is available in most Vermont cities. Many smaller towns are not serviced by public transportation other than a taxi service. Ask us about Vermont Public Transportation or share comments. To feature your Vermont business, contact us.
Vermont Moover & Public Bus Transportation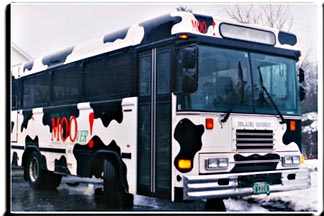 Travel the Deerfield (Mt. Snow/Haystack) Valley in a Holstein-themed bus. MOOver is the Mount Snow Region's unique people mover. It was February of 1996 when a small group of volunteers gathered to discuss the transportation needs of the Deerfield Valley in southern Vermont – an area famous for skiing at Mt. Snow and Haystack Ski Areas, as well as other forms of outdoor recreation. 
The consensus was that Wilmington and Dover could benefit from some form of public transportation. The volunteers, who were representative of residents, business owners and government officials of both towns, became the Deerfield Valley Transit Committee and eventually the Deerfield Valley Transit Association. (DVTA)
The solution to the public transportation needs of the Mt. Snow area emerged as "The Moover", a free public bus system with a Holstein motif.  It's hard to miss "the Moover" if you're on the way to Mount Snow or on Vermont's busy Rt. 9. The free service runs from Wilmington to Mt. Snow daily. When visiting the area, leave the hassle of driving behind and experience this creative way to travel.
This valuable free service is an excellent example of cooperation of residents and local businesses working together to implement a creative solution to the Mt. Snow area's  public transportation needs. The hard (often thankless ) work of  volunteers often goes unnoticed so we would like to publicly thank everyone who contributed to this fine effort including the current DVTA board members.
When you're traveling Route 100 near Mt. Snow or Haystack watch for the bus that mooves, the free people mover,  operated as a public service by the Deerfield Valley Transportation Association.  For schedule information call the DVTA at 802.464-8487.

Remember, there is no charge for riding the MOOver! Look for the MOOver Bus stop signs for bus stop locations. The bus departs from the Deerfield Valley Health Center and travels from Wilmington to Dover and back (Routes 9 & 100) daily.
The Mt. Snow – Deerfield Valley area of Southern Vermont is great place to vacation. The Deerfield Valley region has an outstanding assortment of inns, hotels, resorts, restaurants and ski areas.

Vermont Products | Visit VT Towns | FWM 24/7 Shopping

Country Weddings | New England Recipes
VT Inns | Red Sox Gifts | Travel Destinations
Free World Mall

Country Weddings | New England Recipes
VT Inns | Red Sox Gifts | Travel Destinations