Vermont Murder Mystery Weekends
Murder Mystery in Vermont

The murder mystery writing genre did not exist until the late 1800's where it gained immense popularity for it's earliest writers – men like Charles Dickens and Edgar Allen Poe. Soon after the birth of a new genre of entertaining novels, the birth of murder mystery parties followed. The early murder mystery games, popular as Victorian Era parlour games, came in boxed form and involved a great deal of role playing. not much has changed in modern times. Ask us about Vermont Murder Mystery Weekends or share Vermont vacation comments. To feature your Vermont business, contact us.
Vermont Murder Mystery Weekends
What is a Murder Mystery Weekend / Evening?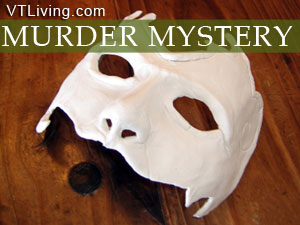 Old New England hotels and historic country inns have always offered the perfect mysterious atmosphere for scandalous activities.  Murder Mystery Evenings or Weekends have become so popular that they are now being offered world-wide at hotels and inns, and even on trains like the Orient Express.
Here in Vermont, these evenings and weekends usually involve a limited number of guests who inquire and are then invited to participate in the playacting of a murder, followed by an investigation, and culminating with the apprehension of the perpetrator.
Murder Mystery Evenings / Dinners usually include a welcome reception, three-course dinner, and a complimentary wine or dessert reception at the evening's end.  Weekend Packages typically include two nights' accommodations, evening receptions, complimentary dessert or wine, one or two dinners, and full breakfasts each morning.  Both the Evening and Weekend packages will include all the mystery materials needed by guests.
How do guests participate in the Murder Mystery?
Typically, guests who inquire are sent a packet containing the story line for the evening or weekend to review prior to arrival, and given a role and costume suggestions.  Upon arrival, guests are greeted by the Murder Mystery Host and provided with any additional information they will need.  Oftentimes, a few participants will be 'ordinary guests', who are along for the ride, but not playing a specific role.  Sometimes, actors are intertwined with the guests and role-players, participating incognito and playacting with the others.  These actors, along with your host, initiate events that ultimately bring the evening or weekend to it's climactic conclusion.
How does the Murder investigation proceed?
The evening or weekend events usually begin with a cocktail party or reception where the first 'incident' will transpire.  Detectives are then called in to begin the investigation and interrogate witnesses and potential suspects.  Throughout the evening or weekend, other murders or incidents may take place causing the investigation to take numerous twists and turns.  Participants play out their roles in a relaxed and humorous environment with Detectives interjecting levity and chaos with their methods of investigation and unusual questions.
How do the hosts keep their guests involved for an entire weekend?
As weekend guests retire to their sleeping quarters, hosts are busying themselves with planting evidence and conjuring up schemes to confuse the investigation.  During the night, another 'incident' may take place – a murder…  a disappearance…  or a blood-curdling scream heard property-wide.  The investigation, role-playing, twists, and turns continue throughout the weekend creating comic chaos.  Guests will usually be asked to work in teams to come up with a prime suspect.  Then, suddenly, the prime suspect may be found to have a concrete alibi, or may fall victim to the real perpetrator, initiating the final turn of events. 
When is the real perpetrator revealed?
The real perpetrator is usually exposed after an evening mystery dinner, during the dessert reception when prizes are awarded.  Weekend guests typically have to wait for the reception following the second evening dinner to find out who the perpetrator is.  Sunday morning breakfast for weekend guests usually combines with an introduction of actors followed by an award ceremony and prize distribution.
Are Murder Mystery events scary?
All-in-all, Murder Mystery events are an absolute blast for anybody seeking a humorous evening or weekend diversion that is guaranteed to provide mischievous relaxation.  There is nothing to be scared about… really…

Vermont Products | Visit VT Towns | FWM 24/7 Shopping

Country Weddings | New England Recipes
VT Inns | Red Sox Gifts | Travel Destinations
Free World Mall

Country Weddings | New England Recipes
VT Inns | Red Sox Gifts | Travel Destinations