Fairbanks Museum & Planetarium
A Museum of Natural Science in Northeast Kingdom, Vermont
St. Johnsbury's Fairbanks family left behind a collection of gems for the State of Vermont. The Fairbanks Museum and Planetarium is perhaps the finest of them all. Ask us about the Fairbanks Museum and Planetarium or share reviews. Contact us to feature your Vermont business.
Vermont's Fairbanks Museum & Planetarium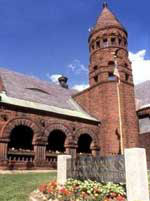 "To inspire an appreciation and responsibility for our place in the natural world." The mission of the Fairbanks Museum and Planetarium in the northeastern Vermont town of St. Johnsbury, as quoted by museum founder Franklin Fairbanks, remains the same today as it did in 1891 when the stately pink limestone building first opened it's doors. The museum's primary dedication is to natural sciences, and it covers a range of topics from endangered plants and animals to the stars and planets surrounding our earth.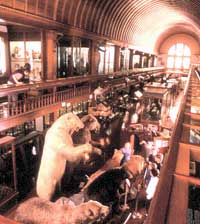 Upon entering the Fairbanks Museum a visitor is first struck, not by the displays, but by the daring architecture of the 21,500 square foot structure. An archway of warm wood soars above the main exhibit hall and it's balcony, running the entire length of the building and setting a dramatic stage for the museum's eclectic collection. On the first floor, the Fairbanks is dedicated to representing plants, animals, birds and insects from New England and around the world. Preserved Bison, Moose and Bears anchor the display with their impressive size. But dwarfing the attraction of the large mammals, is a dizzying – if not somewhat macabre – collection of birds Franklin Fairbanks fondly referred to as his, "cabinet of curiosities." The exhibit houses nearly 1,000 species of birds and 3,000 specimens in all including the world's most incredible exhibition of mounted hummingbirds. Moving upstairs to the balcony, a visitor to the Fairbanks Museum finds themselves on a trip around the world. Artifacts from many cultures and of seemingly every variety reside here. Weapons and dolls, tools and textiles are all included in this diverse collection which was largely provided by traveling friends and family of the museum's founder.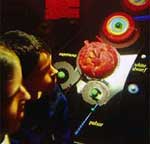 For children of all ages, the most exciting part of a trip to the Fairbanks is a visit to the planetarium, the only public planetarium in Vermont. Fantastically narrated, visions of the night's sky are reflected onto the 24 foot domed ceiling and explained in a way that is both interesting and easy to understand. Adjacent to the planetarium is an exhibit devoted to space, the highlight of which is a model of the Apollo Lunar Lander on the moon's surface.
The Fairbanks Museum in St. Johnsbury, Vermont is a fascinating destination for families and nature-lovers alike. It's location in the wild and un-spoilt Northeast Kingdom, surrounded a great variety of recreational and lodging opportunities, makes the museum a great addition to any Vermont traveler's itinerary.


Fairbanks Museum & Planetarium
1302 Main Street
St. Johnsbury, VT
Ph: 802-748-2372
inns | hotels | resorts | rentals | attractions | dining | real estate

Vermont Products | Visit VT Towns | FWM 24/7 Shopping

Country Weddings | New England Recipes
VT Inns | Red Sox Gifts | Travel Destinations
Free World Mall

Country Weddings | New England Recipes
VT Inns | Red Sox Gifts | Travel Destinations