South Central VT Museums
Norwich Rutland Woodstock Vermont Museums

Some of New England's most famous children's museums are located in this section of Vermont. The hands-on demonstrations at Montshire Museum will entertain young ones for hours. The historic and educational Billings Farm and Museum portrays a glimpse of rural life while Springfield Vermont's historic Eureka Schoolhouse affords an opportunity to visit an original one room school. Visit a Kid's Museum in Rutland, in Woodstock the educational and historic Billings' Farm and Museum is an actual working Vermont dairy farm.  Ask us about VT Museums or share reviews. To feature your business in Vermont Living, contact us.
South Central Vermont Museums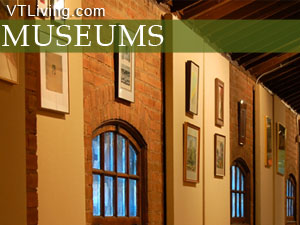 Montshire Museum of Science
Montshire Road, (exit 13, off I-91 North)
Norwich, VT
Vermont Marble Museum
Main Street
Proctor, VT
Billings Farm and Museum
Route 12 and River Road
Woodstock, VT
Eureka Schoolhouse State Historic Site
Rt.103
Springfield, VT
Norman Rockwell Museum
Route 4 East
Rutland, VT
Phone: 802-773-6095
Unique museum commemorates the works of artist and illustrator Norman Rockwell. More than 2000 works cover Rockwell's 65 year career. Admission to exhibit.
New England Maple Museum
Rt. 7, Pittsford, VT
Ph: 802-483-9414
History of maple sugaring in Vermont. Exhibits, live demonstrations, samples, gift shop of maple products, specialty foods. Seasonal.
Hall Art Foundation
551 VT Route 106
Reading, VT 05062
Ph: 802-952-1056
The property consists of a stone farm house, horse barn, tractor barn, exhibits. Free Admission. Open seasonally from May through October.
Pittsford Historical Society Museum
Route 7
Pittsford, VT
Ph: 802-483-6623 or 802-483-6485
Located in Eaton Hall at Lothrop School, Historical exhibits, photos, old tools, walking tour information.
President Calvin Coolidge State Historic Site
Rt. 100A
Plymouth, VT
The birthplace of Calvin Coolidge, the 30th U.S. president hosts a pictorial exhibit of Coolidge's life and career. Visitors center on site. Seasonal.
Precision Valley Corvette Museum
363 River Street
Springfield, VT
Ph: 802-886-1400
Matt Alldredge shares his passion for Corvettes. An amazing collection of cars, car related gifts, collectibles, gas pumps, neon signs, Corvette memorabilia, and antiques.

Wonderfeet Kid's Museum
11 Center Street
Rutland, VT
Ph: 802-282-2678
Website: www.wonderfeetkidsmuseum.org
Fun for the young children – especially those 8 years and younger.
Farrar-Mansur House & Old Mill Museums
Weston, VT 05161
Ph: 802-824-8190
Historic home built in 1795 houses collections of period household items, toys, costumes and weaving equipment. All items are gifts from Weston families and include; collection of portraits, household items, clocks, dolls, guns, band instruments and more. The house is listed on the National Register of Historic Places. The Old Mill, built in 1785 as a sawmill, now contains an unused gristmill and tools dating from 1785 to 1940. There are also items used by tinsmiths, sawyers, coopers, weavers, and farmers.Originally built in 1795 as a home and tavern by Captain Oliver Farrar, the Federal style house now displays collections of portraits, household items, clocks, dolls, costumes, textiles, guns, band instruments, weaving and spinning equipment. All items are gifts from Weston families.
Dolls and Trains Museum
Rt. 4 East
Mendon, VT
Ph: 802-773-8800
See Doll displays, operate a working model railroad layout through Vermont landscapes.
inns | hotels | resorts | rentals | dining | real estate
Champlain Valley VT Museums
Burlington, Middlebury, St. Albans, the Islands of NW Vermont
North Central VT Museums
Montpelier, Barre, Randolph, Waterbury, Stowe, Mad River Valley
Northeast Kingdom VT Museums
St. Johnsbury, Newport, Barton, Lyndonville, Burke, Jay, Island Pond
South Central VT Museums
Rutland, White River Jct., Woodstock, Quechee, Brandon, Killington, Ludlow, Weston, Chester
Southern VT Museums
Bennington, Brattleboro, Manchester, Arlington, Newfane, Mt. Snow area

Vermont Products | Visit VT Towns | FWM 24/7 Shopping

Country Weddings | New England Recipes
VT Inns | Red Sox Gifts | Travel Destinations
Fitness and Sports Products On Sale Now
Free World Mall

Country Weddings | New England Recipes
VT Inns | Red Sox Gifts | Travel Destinations