Southern Vermont Museums
Bennington Manchester Brattleboro VT Museums

Southern Vermont is home to some of the country's most acclaimed museums. The fabulous Bennington Museum is located here and features the Americana collections and paintings, including those by Grandma Moses. The site of the Battle of Bennington features the Bennington Monument – a not to be missed Vermont attraction. North of Bennington of historic Route 7a is the stately mansion known as Robert Todd Lincoln's Hildene. ask us about VT Museum or share your Vermont museum comments. To feature your business in Vermont Living, contact us.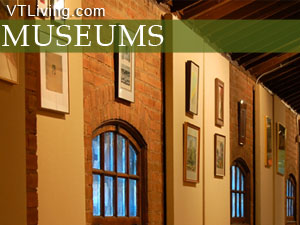 Bennington Museum
West Main Street
Bennington, VT
Ph: 802-447-1571
Renown regional history and art museum, an extensive collection of glass, pottery, furniture, "Grandma Moses" art; Admission is charged, and discounts for seniors and students.
Bennington Battle Monument
State Historic Site
Bennington, VT
Views of New York, Massachusetts, and Vermont from this 306-foot-high monolith, built of gray-blue dolomite. Marks the site of arsenal for 1777 Battle of Bennington, considered by many to be the turning point of the Revolutionary War.

Brattleboro Museum and Art Center
Route 5, Main St. & Rt. 142
Brattleboro, VT
Ph: 802-257-0124
Housed in a former railway station (Union Station) at the intersection of Main Street (Rt. 5) and Rt. 142 in downtown Brattleboro, this museum offers exhibitions of art and architecture of Brattleboro and the area. History of Brattleboro's Estey organ company.
Park McCullough Historic House
Off Route 67A on West Street
Bennington, VT
Ph: 802-442-5441
Listed on the National Register of Historic Places, this 35 room mansion houses is an impressive example of Second empire Victorian architecture. Seasonal.
Vermont Covered Bridge Museum
P.O. Box 260, West Road at Gypsy Lane
Bennington, VT 05201
Ph: 802-442-7158
The first and only covered bridge museum in the world opened on June 14th, 2003 at the Bennnington Center for the Natural and Cultural Arts. Located just off of Route 9, west of the Bennington Monument.
The Nature Museum at Grafton
186 Townshend Road
Grafton, VT 05146
Ph: 802-843-2111
Open the door to Vermont's Natural beauty. Explore the innovative and interactive exhibits-you can dig for fossils, discover minerals in a mine, watch honeybees at work, or investigate underground life in a crawl-through tunnel. Learn about plants, animals and geology, and meet the catamount, our most elusive and mysterious cat. Please call for hours – portions open year round.
Robert Todd Lincoln's Hildene
Historic Rt. 7A
South, Manchester, VT
Ph: 802-362-1788
Former U.S. President Abraham Lincoln's son and descendants lived here until 1975. Beautiful views of the Taconic Mountains, and Vermont vistas from this 24 room mansion. Original furnishings and Lincoln heirlooms. Tours are available. Admission is charged.
The American Museum of Fly Fishing
Route 7,
Manchester, VT
Exhibits treasures of American angling. Rods, reels, flies, hooks, and paintings. Fly-fishing tackle owned by Bing Crosby, Earnest Hemingway, Daniel Webster, and presidents Eisenhower and Hoover.
inns | hotels | resorts | rentals | attractions | dining | real estate
| Photo | Title | Price | Buy |
| --- | --- | --- | --- |
| | German Paintings in The Metropolitan Museum of Art, 1350-1600 | $19.00 | On Sale Now |
| | STAS Cliprail Pro Picture Hanging System Set White - Covers 29.53 ft of Wall Space - Heavy Duty Picture Rail & Art Hanging Gallery Kit Without Nails - for Home or Museum (Includes 12 Hooks & Cords) | $331.52 | On Sale Now |
| | JELRINR Original Abstract Art Oil Painting On Canvas Texture Blue and green Tree paintings Canvas Wall Art Hand painted Acrylic paintings Modern Home living Room Office Decor picture 24x60inch | $126.88 | On Sale Now |
| | Handmade Textured Abstract Wall Art Blue Modern Oil Paintings on Canvas for Living Room Home Decoration | $59.98 | On Sale Now |
| | GREATBIGCANVAS Flourish of Spring Canvas Wall Art Print, Floral Home Decor Artwork, 48"x32"x1.5" | | On Sale Now |
| | Large Traditional Chinese Painting Hand Painted Plum Blossom Canvas Wall Art Modern Black and White Landscape Oil Painting for Living Room 60 x 30 inch | $159.99 | On Sale Now |
| | Ardemy Abstract Wall Art Geometric Blue Teal Painting Modern Artwork Gold Textured Picture for Living Room Bedroom Dinning Room Bathroom Home Office Wall Decor, Extra Large Size Framed 60"x30" | $149.80 | On Sale Now |
Champlain Valley VT Museums
Burlington, Middlebury, St. Albans, the Islands of NW Vermont
North Central VT Museums
Montpelier, Barre, Randolph, Waterbury, Stowe, Mad River Valley
Northeast Kingdom VT Museums
St. Johnsbury, Newport, Barton, Lyndonville, Burke, Jay, Island Pond
South Central VT Museums
Rutland, White River Jct., Woodstock, Quechee, Brandon, Killington, Ludlow, Weston, Chester
Southern VT Museums
Bennington, Brattleboro, Manchester, Arlington, Newfane, Mt. Snow area

Vermont Products | Visit VT Towns | FWM 24/7 Shopping

Country Weddings | New England Recipes
VT Inns | Red Sox Gifts | Travel Destinations
Free World Mall

Country Weddings | New England Recipes
VT Inns | Red Sox Gifts | Travel Destinations